It's an A5 and no, it's not an Audi.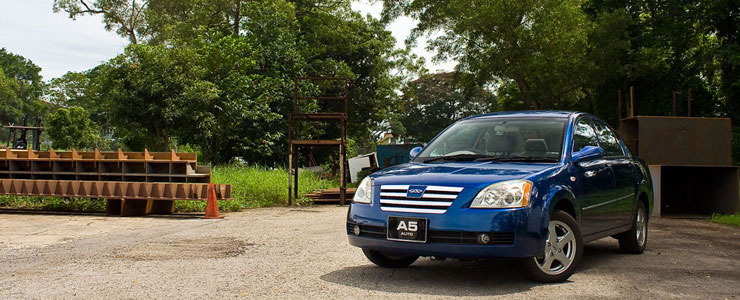 Just early last year, we tested Chery's A5 1.6-litre manual - not nearly as good as what we expected. And just a couple of weeks ago, we brought out the brand's big boy H5 out for a spin. Fit and finish wasn't good, seats looked a tad tacky and the electronics just didn't seem to give in.
But we didn't give up.
Despite all the rolled eyes and disappointing sighs, we decided to give the Chinese marque another opportunity. Being one of Chery's more popular family vehicles, we took out the A5 2.0-litre automatic.
Well, time to stop the jokes. This sedan is a solid, commendable effort from the Chinese automaker. It may not be the best, of course, but it sure has exceeded our expectations in certain aspects.
Exterior
The subtle front end sings reminiscence to a Nissan Sunny which isn't exactly a bad thing because Chery made the semi-circled shaped headlamps up front dominating, with small fog lamps that sits nicely at the bottom of the bumper. For a car of its size, Chery did pull off the front rather well, matching the huge, piercing headlamps with the thick chromed grille that smacks right in the centre.
However, Chery designers may not have given much thought about the sides of the car though. It appears flat and swoopy, with no distinct lines to illustrate its beltline. The only visible line that can be seen is the chromed strip that runs across the doors. And because of this, the roof arches like a Volkswagen Beetle - a design that somehow doesn't fit for a sedan.
The angular styling continues at the back, taking cues from the American marque, the Cadillac CTS. It's straight to the point but a little less graceful and it's certainly a good effort from Chery, although it could have been better. The rear lamps, somehow, just don't work for me, with the transparent circle casing peeking through the tail lights.
This model is no longer being sold by local distributors
Engine Type
:
16-valve DOHC
Horsepower
:
104kW (139 bhp)
Transmission
:
4-speed (A)
Acceleration (0-100 km/h)
:
13.8sec
Fuel consumption
:
13.2 km/L