The 911's excellent design stays intact even after a series of revamps.
Article Courtesy of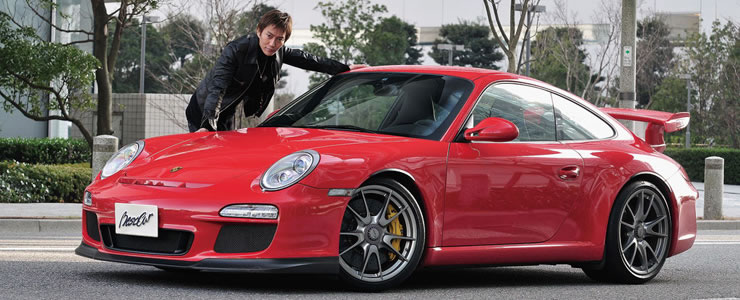 It is well known that Aoyama is a fan of Porsche. His favourite model is 964, which retailed from 1989 - 1993. He is particularly keen on the Speedster variant, and even built an RSR-type Speedster using genuine Porsche parts, although he had some problems finding the rare deep rim wheels. He also considered purchasing the current 997 Speedster variant, which costs ¥29.69 million and whose global sale is limited to only 356 units.
When asked what he finds so appealing about Porsches, he replied that they usually combine excellent design, innovative engine technology and compactness. Though recent models are larger, they are still smaller than Ferrari's offerings. "I prefer smaller cars," he said. "So a Porsche-sized car that is easy to drive is ideal for me."
Exterior
The 911 GT3 measures only 4435mm x 1810mm x 1280mm, much smaller than Ferrari's 458 Italia, which measures 4527mm x 1937mm x 1213mm.
The 911's width posed no problem while manoeuvring through Japan's narrow roads.

This model is no longer being sold by local distributors
Engine Type
:
6-cylinders Boxer engine
Horsepower
:
324kW (435 bhp) / 7600 rpm
Torque
:
430 Nm / 6250 rpm
Transmission
:
6-speed (M)
Acceleration (0-100 km/h)
:
4.1sec
Fuel consumption
:
11.2 km/L