---
Saab has teamed up with Swiss performance tuner Hirsch to produce go-faster versions of their range. We see if the extra power can liven up the 9-3.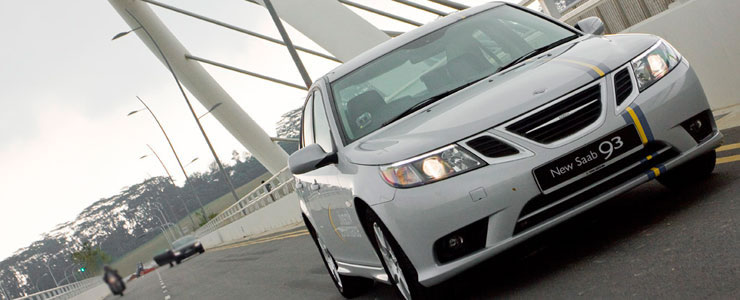 The Saab 9-3, in its current form, has been with us for nearly a decade now, having made its debut in 2002. In that time, it has seen its maker go through tough times, before finally breaking free of parent General Motors' grasp and achieving 'independence', by way of a takeover from Dutch carmaker Spyker.
For quite a while, the 9-3 has had to shoulder the responsibility of being Saab's only new product of the 21
st
century, and thankfully it is a burden that has been relieved with the launch of the new 9-5. With Saab seemingly on its way to recovery, a new 9-3 is expected to be launched in 2013.
Before that happens though, Saab is giving its loyal servant a final boost, by teaming up with Swiss performance tuner Hirsch to give the 9-3 a powerful sending-off.
Exterior
To be honest, I was actually expecting the Hirsch Performance 9-3 to come with a body kit to spruce up its looks. Unfortunately, that's just not how the Swedish roll. Aside from the few badges and stickers on our test car, and the yellow and blue stripes down the bonnet, roof and boot (signifying the Swedish flag), the 9-3 Hirsch looks just like any other 9-3 on the roads.
Having said that, the 9-3 still looks reasonably handsome despite its age - although in the current age, the car starts to look a bit conservative against its contemporaries.
The 9-3 actually received a facelift about three years ago, to keep it refreshed. Granted it didn't actually help it a whole lot, but if you take into account what Saab was going through at that time, you'll understand why the Swedish carmaker didn't really put in a lot of effort into revising its cars. It simply couldn't afford to.
But, Saabs have always been rather understated cars anyway. They don't have to shout out their prowess, preferring to quietly go along their business whilst letting the Germans boast and brag about their abilities. To that end, the 9-3 fits right into Saab's philosophy of unfussy performance.
This model is no longer being sold by local distributors
Engine Type
:
4-cylinders 16-valves DOHC Turbocharged
Horsepower
:
112kW (150 bhp)
Transmission
:
5-speed (A)
Acceleration (0-100 km/h)
:
10.7sec
Fuel consumption
:
11.8km/L