---
While it now has a more contemporary edge, the C-Class retains its elegantly sporty look without losing the marque's values.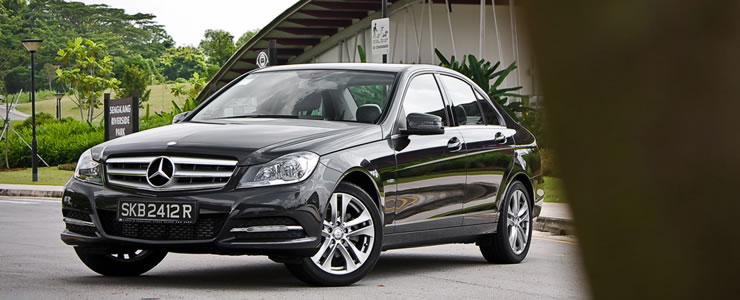 The cars in Singapore offer many different kinds of motoring adventures that manage to capture some of our hearts and minds. Sedans, being the hottest pancakes amongst most Singaporeans, are mostly the ones that separate our city's crème de la crème from the rest of the car types. Personally, I would go for an off-roader, something along the lines of a Rangie Defender or a Wrangler, but I can't deny that the presence of delectable sedans on our roads have injected much "ooohs" and "aaahs" in an already competitive segment.
But what is delectable? I mean, is it mouth-watering? Is it luscious? Is it eye-catching? Or is it simply so attractive and spiritedly strong that it's second to none?
This brings me to the recently launched facelifted Mercedes-Benz C-Class. Selling well over one million units of the previous series worldwide since its launch in March 2007, the sedan is spiritedly strong, making it a leader in its segment since 2008. That said, muscling into a segment with strong fellow peers like the BMW 3-Series, Audi A4 and the Volkswagen Passat means that the C-Class has to make up a lot of ground to stay competitive.
Exterior
With the recent launch of the stunning CLS, Mercedes has demonstrated that it hasn't lost any flair for styling and all the questionable build quality and dynamic mediocrity is a thing of a past, and this facelifted C-Class is no exception. In one of the most competitive segments in the motoring scene, this car is surely the prettiest contender of them all. Changes to its shell are more obvious and aggressive and to a certain extent more unique, with the prominent V-shaped grill that bears the prestigious three-pointed star.
Comparing it to its predecessor, this updated Merc sports a pair of headlights that sweeps further back, making its overall frontal appearance a tad bigger but no less angular and cleaner. From the taut lines on its bonnet to the diamond-looking LED rear tail lights you see here in the picture gallery, it is every inch Merc-made.
Its predecessor has done far too well in the 'recognition' sector that it's tough mistaking this updated C-Class for anything but a Mercedes-Benz. Unlike some of its peers in its segment, the C-Class is more of a love at first sight rather than a result of mixed feelings. The flowing coherent shape that's much in line with the automaker's current styling will probably blow fans' minds to smithereens.
This model is no longer being sold by local distributors
Engine Type
:
4-cylinder in-line BlueEFFICIENCY Supercharged
Horsepower
:
116kW (156 bhp) / 5000 rpm
Torque
:
230 Nm / 4500 rpm
Transmission
:
5-speed (A)
Acceleration (0-100 km/h)
:
9.9sec
Fuel consumption
:
12.9km/L