---
The new Continental GT's ability to enter warp speed at will gives us a bubbly high.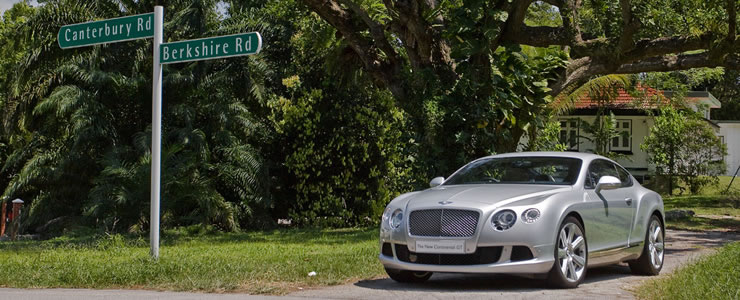 Exhibitions of conspicuous consumption don't always sit well in times of economic turmoil, although it generally stands to reason that all the money that is being bled out of your equity holdings has to be going somewhere... normally somebody else's pockets.
The 'Continental' name has been on several performance cars in Bentley's history since the early 1950s, but it was revived with a big bang with the first Continental GT in 2003, where the model's modern design language, effortless cross-continental prowess and luxurious 2+2 seating catapulted the brand into the consciousness of a younger demographic.
Exterior
As much as some buyers try to reduce their visible enjoyment of such excesses, there are certain immutable trappings of affluence that are instantly recognisable by virtue of the very essence they exude. With its powerfully sculpted haunches and crisply-defined lines, the latest incarnation of the Continental GT (or CGT, for short) is a veritable totem of power that is practically humming with the resonance of success.
Even then, there's always a sense of subdued restraint about the Bentley cars that never cry out for attention - the sleekly-styled Continental GT is more about the sum of its handworked and infinitely (almost!) variable permutations to personalised luxury than just the brand alone.
However, this isn't to say the CGT didn't attract its fair share of admiring glances, even from those who did not recognise it as a Bentley initially. Some continue to associate the brand with the Arnage Red/Green Label cars from before, which had plenty of oomph in a straight-line, but were a bit of a handful the moment you needed to stop, or go quickly around a corner. We reckon the attraction arises from the sheer force of this second generation CGT's imposing presence and prodigious proportions. The CGT's 4806 (L) x 2227 (W) x 1404 (H) mm dimensions are stretched over the optional 21-inch rims (on the test-car), which somehow, even manage to look small on the leviathan.
This model is no longer being sold by local distributors
Engine Type
:
W12 Twin-Turbocharged
Horsepower
:
423kW (567 bhp) / 6000 rpm
Torque
:
700 Nm / 1700 rpm
Transmission
:
8-speed (A)
Acceleration (0-100 km/h)
:
4.6sec
Fuel consumption
:
6.1 km/L