Not only is the C250 Coupe easy on the eyes, the two-door four seater car is working its way to cause trouble for its competitors.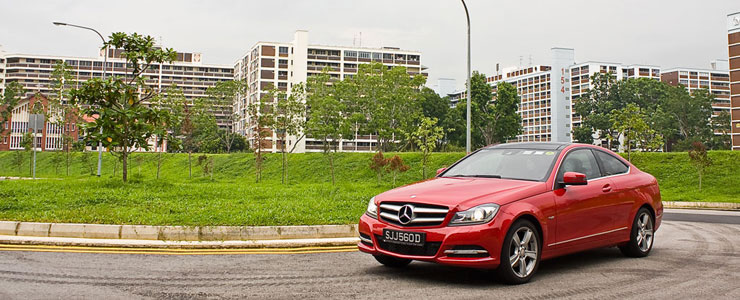 Aimed at the younger and impression-conscious crowd, Mercedes-Benz has got its act together to bring a more stylised coupe. While other luxury brands are working its way to become leaders in the coupe segment, Merc is already leading the pack, with its plentiful sporty attitude and ride comfort.
So regardless of whether it's the
C350 Coupe
that we tested last month or the C250 Coupe you see here, the joy of driving a Mercedes-Benz coupe is primarily captured through the car itself. This made the C-Class's level of success an all-time high. And by completing the best-selling model series from Mercedes-Benz's line-up with a coupe, the brand may now appear more interesting and 'fashionable' to new and younger buyers.
Exterior
The C-Class story has almost entered the popular car legend - German carmaker creating sleek, stripped down sedans and now the coupe with stunning rooflines, short front overhang and steeply raked windscreen. So just how does a manufacturer follow up with that? Go back to the basics and start from scratch? Take out the engineer's guide to making a successful car? With the eyes of the automotive world on Mercedes-Benz now, the brand does only one thing it does best - up its ante.
On the C250 Coupe, the German marque subtly magnifies the car to differentiate it from its four-door brethren and fleshes it out without losing the elegant feel of the car. Unlike other coupes in the segment, the C-Class coupe has the rare gift of ensuring that the delicately curvy lines on its shell don't stray into an overdramatic territory, making it one car that won't go dated for many years to come. This gift combined with a sexy silhouette makes for a stunningly well-realised follow.
The muscular-styled front accompanied by its two-bar grille separates its category with the sedan while the roofline flows uninterruptedly to the rear, where the pair of 'diamond studded' tail lamps complete what most will reckon to be elegant, sporty, luxurious and graceful - giving the much needed presence on the roads.
This model is no longer being sold by local distributors
Engine Type
:
4-cylinder in-line BlueEFFICIENCY
Horsepower
:
152kW (204 bhp) / 5500 rpm
Torque
:
310 Nm / 4300 rpm
Transmission
:
7G-Tronic Plus (A)
Acceleration (0-100 km/h)
:
7.2sec
Fuel consumption
:
13.8 km/L