---
Two sexy coupes, one ultimate showdown. Who will come out tops in this battle of the turbocharged two-door style icons? We find out.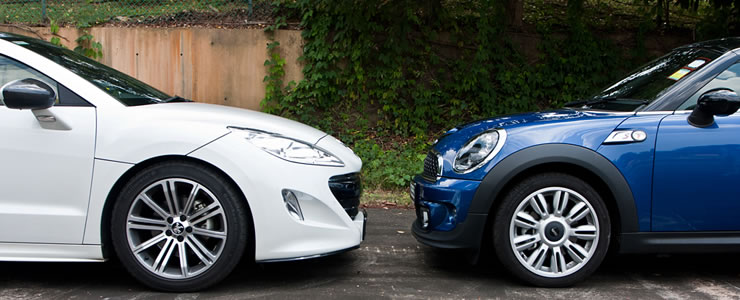 Interior
Both cars are strict two-seaters, although the Peugeot has thrown in token rear seats to make it a 2+2. But in truth, those rear seats are not really of any use for the purpose of ferrying humans. The low roofline, as a result of the sloping bubble glass roof, further aggravates matters, making space a premium. Treat the back seats like an extra storage compartment for your loose items and it would probably make more sense.
The MINI wisely dispenses with having any rear seats, and instead features a proper section for items, such as the grocery shopping, or little knick-knacks for that weekend trip. The Coupe makes no bones about its intentions as a car strictly for the driver and his lucky passenger only. No pesky third wheel here allowed.
Compared with their stunning exterior design, both coupes' cabin come across as a tad tame. The MINI Coupe's dashboard is the same as any other MINI, while the RCZ's own is almost exactly similar to the less-attractive 308CC. There are a few minor touches here and there to add a bit of flair, like the customisable chrome bits in the MINI, and the classy analogue clock in the RCZ, but overall, they are nothing much to shout about.
For cars which were designed with sporty pretensions in mind, both the MINI Coupe and Peugeot RCZ are surprisingly practical. The Coupe's tailgate opens up to reveal a reasonably practical boot, with a useful 280 litres of capacity, and a slot that opens up to allow long items to poke through the cabin. The RCZ fares even better, with a more conventional shaped boot that allows for 390 litres in load carrying ability. The rear seats also can be folded down to expand the cargo area further, turning the RCZ into a rather amazing-looking van.
The Drive
Under the bonnet, both cars actually share the same engine, the ubiquitous Prince powerplant that sees application in various BMW, MINI, Peugeot and Citroen products.
The MINI though, in Cooper S form, has the slight edge in performance, churning out 184bhp from the 1.6-litre turbocharged unit. The result is a perky little car that feels ever so eager to blast from point to point.
This model is no longer being sold by local distributors
Engine Type
:
4-cylinders 16-valves DOHC Twin-Scroll Turbocharged
Horsepower
:
116kW (156 bhp) / 6000 rpm
Torque
:
240 Nm / 4000 rpm
Transmission
:
6-speed (A) Tiptronic
Acceleration (0-100 km/h)
:
9sec
Fuel consumption
:
13.6 km/L
This model is no longer being sold by local distributors
Engine Type
:
4-cylinders in-line 16-valves Turbocharged
Horsepower
:
137kW (184 bhp) / 5500 rpm
Torque
:
240 Nm / 5000 rpm
Transmission
:
6-speed (A)
Acceleration (0-100 km/h)
:
7.1sec
Fuel consumption
:
14.9 km/L