While the masses are still reserved in the adoption of electric-for-the-future, Renault created a convincing material that binds the eco-dreams to reality.
Electric cars - it has been a long while since the breed has emerged on global showcase, albeit in prototype trims. Not too long ago however, a number of carmakers have seriously pondered over the idea, turning them into mass-produced reality.
There is little wonder that our nation has been dilatory in the adoption of such technology. While there are numerous out there who deem it as the motoring solution for the future, there are still many who are sceptical about the idea. Inevitably, the question in mind is the maturity of the technology - safety, usability, and how it can suffice our needs, and more than often our wants - think of a sub-4 seconds supercar that runs on invisible charges.
Back to 'reality', it is the bread-and-butter car that most of us would be most concerned, so as to speak, and if the electric-powered variant would serve as an alternative.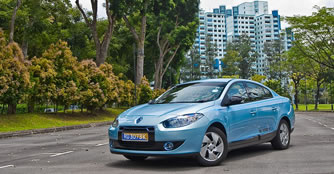 Other than the 'RD' plate and decals, little sets this car apart from the others on our local roads
Exterior
Visually, the Z.E. is hardly any different from the standard petrol variant. Unique to the electric Fluence is the LED- tail-lamps, amidst a handful of go-green (blue in this case) decals, and of course the dual charging sockets up on each flank. The electric variant also has a stretched boot length to accommodate the battery pack
The Z.E. has a 130mm stretch over the standard petrol-driven variant. As much as it seems on paper, it does take a keen eye to spot the differences. Despite having a longer boot, the Z.E. still suffers a cut in boot volume. This, however, contribute to the driving characteristics, all thanks to a considerably different weight distribution - which shall be discussed in the latter section.
This model is no longer being sold by local distributors
Horsepower
:
71kW (95 bhp)
Acceleration (0-100 km/h)
:
13sec
Fuel consumption
:
unknown