In Sports Premium guise, the M37 is easily one of the most menacing and distinctive looking sedan on our urbanised landscape.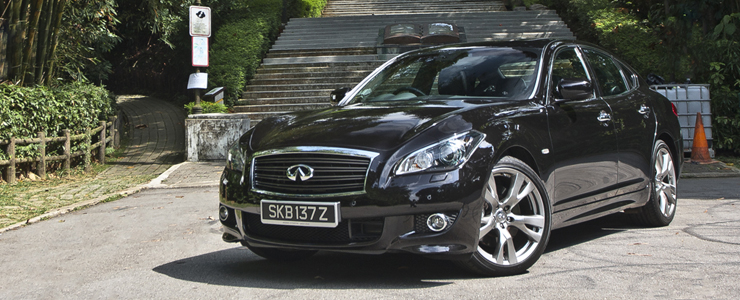 Not too long ago, Infiniti returned to our local shores with a big bang (literally), with the larger-than-life FX-range SUVs. Similarly, the rest of FX's stablemates bear distinctive body shapes that were nothing like what we had on our roads.
The M sedans have had its own share of limelight - most memorable being the M37h Hybrid which stole the World's fastest accelerating hybrid sedan accolade from renowned sportscar manufacturer Porsche.
Now that the marque has made its mark in the field of performance, it hurries to move forward in terms of product differentiation. Finding the standard M37 a tad too tame for your liking? The M37 Sports Premium may carry the answer to your prayer.
Exterior
Like on a dose of steroids, the M37 in Sports Premium guise is distinctively more purposeful and charismatic. The bits of aesthetic upgrades, albeit minor, match the form of the M37 perfectly.
In details, the five twin-spoke alloys in 20-inch application flows nicely with the masculine arches and curvaceous outlines. The rump is filled with subtle-looking features, such as the boot-lid integrated spoiler, and twin-exhaust tugged quietly underneath the bulbous bumper - as if to offer a hint of the potent prowess hidden within the looks of the car.
The pictures may only speak so much about the sports sedan we have here. Up close and person, visual contacts are a delectable experience, especially with our test car in a blackish hue, the stance is much more intimidating up close. In short, the Sports Premium easily sets itself apart from the more popular German contenders.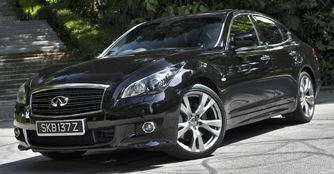 Smoke-headlamps, 20-inch alloys, and a reworked bumper add charisma to the sports sedan
This model is no longer being sold by local distributors
Horsepower
:
236kW (316 bhp)
Torque
:
360 Nm / 5200 rpm
Transmission
:
7-speed (A)
Acceleration (0-100 km/h)
:
6.2sec
Fuel consumption
:
9.8 km/L