---
The latest Camry Hybrid is a sedan that sports quality materials and firm finishing. But that doesn't blow. What does is its amazing fuel economy and enhanced driving dynamics.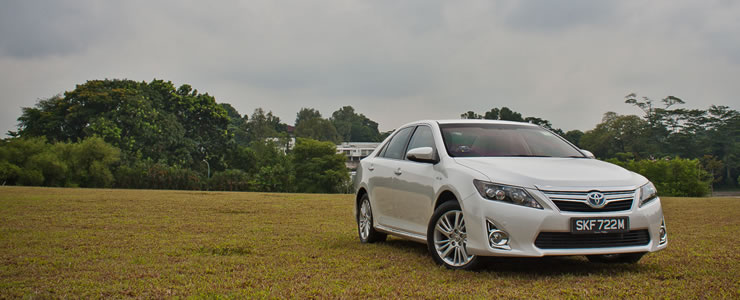 Ever since the Toyota Camry was produced in 2006, the mid-sized sedan was a huge success. Locally speaking, it was the closest car buyers could get to its luxurious counterpart, Lexus. But unlike Lexus, Toyota also premiered the hybrid version alongside the pure petrol powerplant. It took almost three years later before the first Camry Hybrid was launched in Singapore. Now, another three years have passed and the second generation Camry Hybrid looks all set to take on some of the biggest player in the hybrid segment.
When it comes to hybrid cars, the Toyota Prius has been the benchmark for all to follow. It's amusing, predictable and needs very little in the way of sustenance. Coupled with the fact that the Prius C was recently launched a couple of months back, it's relatively easy to forget that there are other Toyota hybrids outside of the Prius brand.
Now it's time to redress that balance. While it may not be the latest Toyota to wear the blue Hybrid Synergy Drive badge, the Toyota Camry Hybrid is probably the most fully loaded vehicle in the Japanese marque's stable.
Exterior
Toyota didn't mess with its success formula when it came to the fundamentals. Despite having several changes up front, it's still unmistakably the bread-and-butter Camry. The tree-hugging sedan sports a sharper look now, with angular lines and a pair of chromed surrounds on the fog lamps to make the overall profile an aggressive one. It's a good effort to woo buyers back to the Japanese brand.
It matches the family car genre well. Looking smoother than its predecessor, the Camry Hybrid has a clean sculpted sheet metal that conveys simplicity and elegance. And to signal the driver's environmental consciousness, hybrid badges are located around the fenders while the signature hybrid blue Toyota logos sit well on the front and the back of the car.
At 4825mm x 1825mm x 1470mm (L x W x H), the hybrid sedan's length, width and height are almost the same (it's a tad wider now). In fact, even its wheelbase of 2,775mm has remained the same from its predecessor. What has changed is the evolution of the car's design. With competition stepping up and COE hikes favouring the continental breeds, Toyota knows it has to place its best face forward and the Camry Hybrid, along with the pure petrol partner, are its best bet.
This model is no longer being sold by local distributors
Engine Type
:
4-cylinder in-line DOHC VVT-i
Horsepower
:
151kW (202 bhp)
Acceleration (0-100 km/h)
:
8.6sec
Fuel consumption
:
19.6km/L