---
The A6 Hybrid may be late for the hybrid party, but its refinery and excellent behaviour on the road is definitely worth waiting for.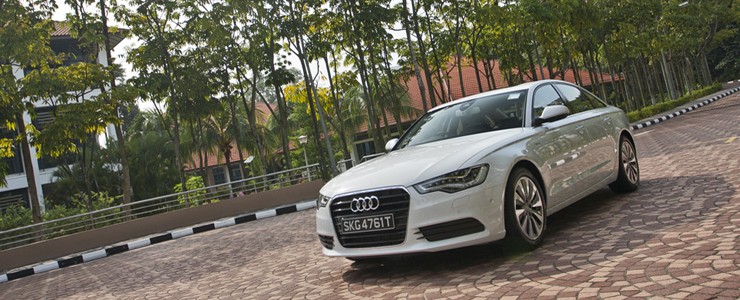 Audi has finally mustered its effort to bring on board its first hybrid offering for the local market. Based on the A6 sedan, it looks all set to hop onto the bandwagon of its highly successful petrol-driven brethren. In fact, the 'standard' A6 overtook the smaller A4 to become the marque's top seller in Singapore.
The A6's entrant makes for a more enthralling segment which was previously dominated by the Japanese with the Lexus - we all love variety don't we? And now with Audi's A6 hybridised, the Four Rings seems set to take on its peers, with its clever engineering and seamless hybrid set-up.
Exterior
Like its competitors from Lexus and BMW, the A6 is basically a standard sedan with a bolt-on hybrid drivetrain. Visually, little sets the hybrid variant apart from its pure petrol brethren, with a trio of small badges on its flank and rump - none of the sort of shout-out 'eco-friendliness' one gets from the
ActiveHybrid 5
(AH5).
The optional LED headlamps (the one that our test car has been blessed with) are different from the ordinary HID - it accentuates a delightful ambience when viewed at night thanks to the glowing white hue. Speaking of optional preferences, the two-tone 'turbine-styled' 18-inch rims that you see here are also part of the options list (17-inch comes as standard).
At 4915mm long and 1455mm tall, the A6 hybrid is longer and sits lower than the BMW AH5, pulling off a more stream-lined stance, which is further helped by the sweeping headlamps.
Doing without the 'S' kits, the hybrid is properly elegant with long overhangs forming a flowing silhouette - purposeful without feeling overtly bulky.
This model is no longer being sold by local distributors
Engine Type
:
4-cylinder in-line TFSI Turbocharged
Horsepower
:
157kW (211 bhp) / 6000 rpm
Torque
:
350 Nm / 4200 rpm
Transmission
:
8-speed (A) Tiptronic
Acceleration (0-100 km/h)
:
7.5sec
Fuel consumption
:
16.1km/L