The GS Hybrid has been thoroughly refined through its generations - now facing intensifying competition from the Germans. We muscle the ActiveHybrid 5 against the almighty to find out if old is still gold.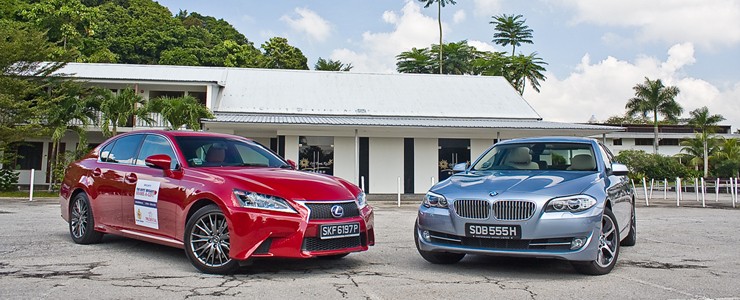 Like a persistent flu bug, the hybrid trend has bitten a number of automakers by now. And it's more so recently, with continental brands like BMW and Audi providing their reiteration of hybrid variant.
Lexus has been a forerunner in this field, least surprising that the marque now boast the largest array of hybrid variants in the industry.
When we test drove the GS hybrid earlier
, it stood to us as a symbol of the marque's expertise in petrol-electric drivetrain. And while its sportier outfit may be a cause for concern for the true-blue luxury goers, it broadens its appeal to younger audiences.
The ActiveHybrid 5
(AH5) on the other hand is one of the latest contenders in the segment. Built with a radically different recipe, it seems that driving enjoyment has taken the front seat in this hybrid.
Exterior
Despite a more recent debut, the AH5's take on the F10's sheet metal make it feel more dated than the GS. This is not to say that the current 5er is a backward attempt in terms of styling. Instead, the GS' front facet and edgier overalls take credit for a more dynamic and modernistic look.
More notably, the GS also comes in two flavours to better suit the taste of buyers - luxury trim for those more accustomed to nigh-on-high lifestyles; and a more outgoing F Sport trim for those looking for a little more spice on their ride.
It is easy to fall for either of these sedans. BMW reinstates the marque's blueprint snout on the current 5er, coupled with the 'angel eyes' daytime running LED - a sure fire way to attract the right attention anywhere.
Both BMW and Lexus have fitted the hybrids with 18-inch shoes, which looks a tad undersized with pronounced arches. However, the fan-styled rims on the AH5 does look more adept for the hybrid, marking it out as a special variant, making the multi spoke on the Lexus look pale in comparison.
This model is no longer being sold by local distributors
Engine Type
:
6-cylinders in-line
Horsepower
:
254kW (340 bhp)
Transmission
:
8-speed (A) Steptronic
Acceleration (0-100 km/h)
:
5.9sec
Fuel consumption
:
14.7 km/L
This model is no longer being sold by local distributors
Engine Type
:
V6 DOHC Dual VVT-i
Horsepower
:
257kW (345 bhp) / 6400 rpm
Torque
:
352 Nm / 4500 rpm
Acceleration (0-100 km/h)
:
5.9sec
Fuel consumption
:
16.4 km/L