---
Being the first 3 Series to enter our COE Category A with a 1.6-litre engine, the BMW 316i continues to impress with its refined power delivery and attractive price package.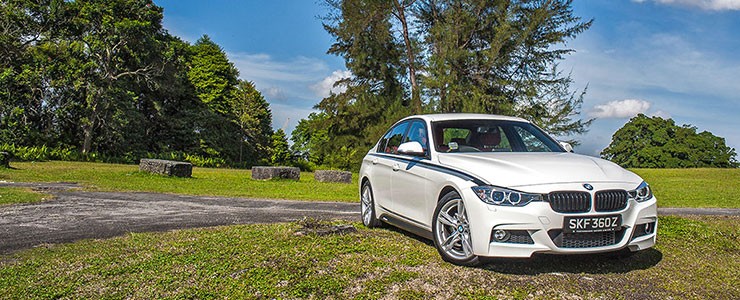 It seems that BMW's best selling model is back for more. Spurred by overwhelming acclaims by critics worldwide, and not forgetting adhering to emission standards, it's no surprise that the Bavarian marque is expanding its range.
The current sixth generation 3 Series came to Singapore last March, unveiling the six-pot 335i, followed by the four-cylinder 328i and 320i, both of which use the same basic 2.0-litre turbocharged engine, albeit differently tuned in terms of their power output.
Now the new BMW 316i becomes the first 3 Series to enter
Singapore's COE Category A with a 1.6-litre powerplant. And BMW couldn't have chose a better time to release this latest 3er, after recent updates to the Mercedes-Benz C-Class and the Audi A4.
Exterior
Sporting one of the most exciting design cues that resemble the bigger 5 Series, the length of the 3er has increased by 93mm while having a bigger footprint of 37mm and 47mm for the front and rear respectively. As a result, the car looks more poised and commanding on the road.
But despite the car's newfound size, the 3er has shed some 40kg, thanks to the extensive use of extra-lightweight chassis components and the new generation of light but no less efficient and powerful engine. Comparing it to the previous model, the new BMW truly represents a progression form that deserves salutation and praise.
In its place, you will be able to see a sheet metal that has sharper and more defined lines with a stretched face that integrates the kidney grille with both headlamps.
There are some changes to the rear of the car too. Taillights now shine through a pair of dazzling BMW L-shaped design tail lamps, giving the F30 a fresher feel and the needed visual emphasis that was missing in its predecessor.
This model is no longer being sold by local distributors
Engine Type
:
4-cylinders in-line
Horsepower
:
101kW (136 bhp) / 4350 rpm
Torque
:
220 Nm / 1350 rpm
Transmission
:
8-speed (A) Steptronic
Acceleration (0-100 km/h)
:
9.2sec
Fuel consumption
:
16.9km/L