---
Essentially spawned with similar recipes, these compact sedans have more in common with their downsized hearts, falling adeptly into the Cat A COE.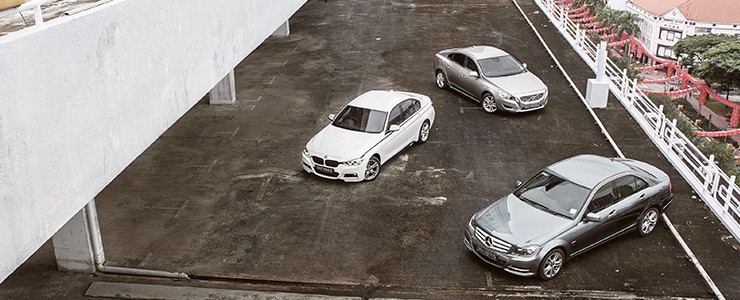 Automakers will not be considered mainstream if they haven't had a contender in this segment. And like diet staples, these cars have filled much of the local's appetite for sensible motoring.
Yes, we are on the topic of compact sedans.
These booted four-door commutes have been around for as long as we can remember, and arguably, after being through many generations, have been thoroughly honed.
They pack less of the chivalry which their raised SUV cousins can be boastful of. Being 'Bread & Butter' also gives you an idea that these cars aren't the most inspiring, to say the least - else we would have termed them Caviar and Wine.
On the hindsight, necessity being the mother of all inventions, one simply cannot negate the purpose of these cars.

Exterior

Choosing between the trio can be as hard as picking your dining location - each gives a different set of character/taste that will score a high with its distinct taste bud.
The C180 which has been around for the longest time gets a healthy dose of modern decorations - such as daytime running lights - to stay in tune with the rest of the pack. And like what the three-pointed star was known to be, the C-Class feels clinical and sombre - less of the shout-out you get from the bimmer.
If the C-Class has been fed with penicillin, the 316i must have been doping - especially when kitted with this M Sport package. Not that it needed one though - we reckon the razor sharp lines on the new facet would have given it a sporty enough look.
The Swede, on the other hand, is potently quiet - you may not have noticed it among the crowd. But when it starts getting your attention, you will find an ensemble of sheet metals nicely pieced together. Angular air inlets, matt silver inlays/diffuser on the underbody - all these small details give the car a dynamic and complexed, yet subtle look.
This model is no longer being sold by local distributors
Engine Type
:
4-cylinders in-line
Horsepower
:
101kW (136 bhp) / 4350 rpm
Torque
:
220 Nm / 1350 rpm
Transmission
:
8-speed (A) Steptronic
Acceleration (0-100 km/h)
:
9.2sec
Fuel consumption
:
16.9km/L
This model is no longer being sold by local distributors
Engine Type
:
4-cylinders in-line BlueEFFICIENCY Turbocharged
Horsepower
:
116kW (156 bhp) / 5300 rpm
Torque
:
250 Nm / 4000 rpm
Transmission
:
5-speed (A)
Acceleration (0-100 km/h)
:
8.5sec
Fuel consumption
:
16.4km/L
This model is no longer being sold by local distributors
Engine Type
:
4-cylinders in-line 16-valves Turbocharged
Horsepower
:
134kW (180 bhp) / 5700 rpm
Torque
:
240 Nm / 5000 rpm
Transmission
:
6-speed (A)
Acceleration (0-100 km/h)
:
9sec
Fuel consumption
:
14.7km/L