---
Improved performance, luxurious cabin and a contemporary sheet metal put the facelifted E-Class on level playing ground with the class leading BMW 5 Series.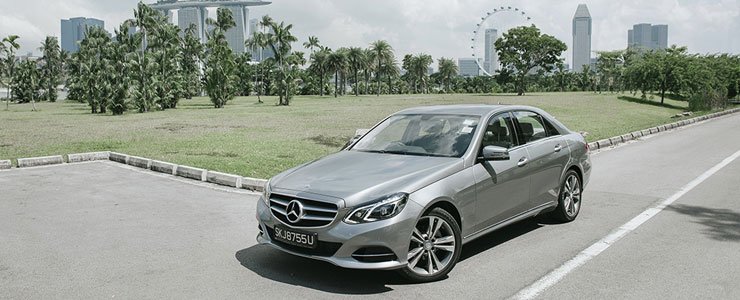 The E-Class has been long associated with taxis in Europe, thanks to its generous sizing and durability. In fact, it wasn't until some 2007 when the facelifted W211 model (the one with four oval headlamps) was used in Singapore as a taxi too. Hell, even the successor W212 model is still being used as a white runabout on our roads today.
That's not to say you can't find the E-Class parked at Shenton Way or Raffles Place. This model has been commonly selected when it comes to the list of cars to transport businessmen and women alike. Of course there's also the S-Class but we shall not get into that just yet.
But despite this measure of depth of the E-Class' appeal, let's face it. Most Singaporeans will be hard pressed not to associate the Merc with cabs, especially those in white. The facelifted E-Class, though, is about to change all that.
Exterior
Calling this model a facelift will make you wonder how a brand new model will turn out. It looks nothing like the previous model, although the general shape of the E-Class has been carried over for the new model year.
Graced with Merc's new design language, the car now sports more aggressive bumpers and new LED headlamps - with a pair of optional arrow-head daytime running lights combining modernity with familiarity that will not put off any existing customers.
While many will agree that the frontal look of the E-Class is a tad fussy, if not overly complex, it has a significantly neater face that will grow on you.
Changes to the rear are just as substantial. Not only is it cleaner, taillights are now more upscale looking, giving the butt an overall design that's undoubtedly sleeker and more elegant.
At 4,879mm x 1,854mm x 1,474mm (L x W x H), the E-Class is smaller than the class leading 5 Series as well as the Audi A6. But causal observers are bound to stare in awe. It neither lacks the significance nor the substance on the road - regardless if it's on the move or idling at the lights. Coupled with the 18-inch wheels, the E-Class is decidedly aggressive.
This model is no longer being sold by local distributors
Engine Type
:
4-cylinder in-line Turbocharged
Horsepower
:
135kW (181 bhp) / 5500 rpm
Torque
:
300 Nm / 4000 rpm
Transmission
:
7G-Tronic Plus (A)
Acceleration (0-100 km/h)
:
7.9sec
Fuel consumption
:
15.4km/L