---
Like its coupe brethren, the McLaren 12C Spider is poise, agile and accurate... except it's cooler.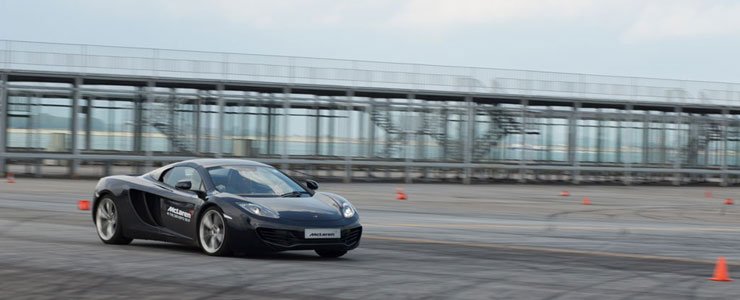 To start off, I didn't get to drive the McLaren Spider topless. I was going to remove my shirt but then it would have had ladies swooning... from the horrific sight, but I digress.

The weather was horrible and it was raining heavy. Still, that didn't stop the bunch of media gathered at Changi Exhibition for McLaren's 'In the driver's seat' from grinning from ear to ear and chatting excitedly like girls who won tickets to a meet and greet with David Beckham.




On hand was a pair of black McLaren MP4-12C - a coupe and a spider - for us to put through the paces on a gymkhana course. Just two laps each but we were assured it was worth waking up early on a Saturday morning for!

Exterior

The 12C, in its coupe form, draws styling influence from the legendary McLaren F1 supercar but the problem is that the F1 does look kind of dated today. When your Tod shod Hermes totting customer pays a million dollars for a car, looking "rather good" is not quite enough.

Not that the 12C is ugly. Just that it doesn't look as defiant at the Lamborghini Gallardo Spyder or as beautiful as the Ferrari 458 Spider. That said, form is dictated by function, and all the ducts and scoops on the 12C Spider are there for a specific reason.
The best part of the 12C Spider is that its silhouette looks almost identical to the coupe with the roof up - something most convertibles struggle with.
So the McLaren looks as good with the top up as with it down. As for the colour of choice, we say definitely go with the Volcano Orange… although the silver is nice too. But whatever the choice, the thing that will impress offshore bank relationship managers and KTV girls alike are the dihedral doors.
As for your boy racer friends, they have to be content that all the geeky good stuff is under the skin - like the lightweight yet incredibly strong carbon tub and radiators at the flank placed in line so that the 12C Spider can be narrower and hence lighter.
More impressively, the Spider weighs just 40kg more than the Coupe so performance will be similar. It all comes down to whether you have an extra $100 grand to spend…
This model is no longer being sold by local distributors
Engine Type
:
V8 32-valve DOHC dual VVT
Horsepower
:
459kW (616 bhp)
Transmission
:
7-speed (A) SSG
Acceleration (0-100 km/h)
:
3.1sec
Fuel consumption
:
8.5km/L