---
The Auris, Golf and i30 each do without a rump - but that is just about the only common trait among the trio. We find out which is the best.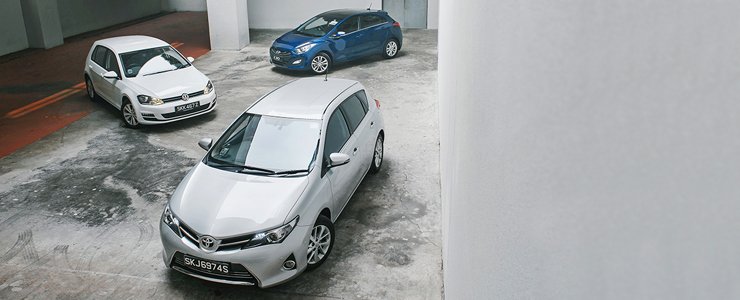 The Golf is an icon. The renowned name in the automotive world is like a celebrity among a crowd of newcomers. It has enjoyed decades of stardom, thanks to its down-to-earth image, which is likeable and easy to fall for. The figures, perhaps, tell it all - seven generations, 30 million copies, and still counting.

Unlike the Golf, the Auris is merely in its first incarnation in Singapore. That however, should not be its weakness. There is no doubt about the Japanese's car building capabilities, and the Auris marks a fresh, brand new approach to the family hatchback segment.

Similarly, the i30 was a departure for Hyundai. Following its recent revamp to move upclass, the hatchback is more continental - in both the way it looks and feel.

These three hatchbacks couldn't have been more different in the way they were conceived, designed, and constructed. And it is no surprise that the two newcomers came with the Golf's throne in mind. But will they succeed?


Exterior

It is hard not to squint when it comes to telling the new Golf apart from its forebearer. Little has changed on its sheet metal, and although the latest is noticeably wider and longer, it retains the general proportions that makes it instantly recognisable as the hatchback icon.

On first look, it is almost difficult to tell that the Auris is a Toyota - which isn't a bad thing at all. The styling is fresh and invigorating, and it evokes a sense of dynamism - thanks to the crisply slit headlamps and angular front facet.
On closer look the Auris carries a slight hint of the RAV4, especially the way the front and rear lamps are arranged. This brings about a strong sense of family identity, which has been inherent in most European car designs.
However, it is the i30's looks that bought us over. The housed headlamps with chrome in-sills feel elaborated but not overtly complicating. Credits, too, need to be paid to the fluid sweeping lines, which nicely decorates the front facet and wraps around the body.
As a whole, the Golf feels mature while Auris is dynamic, but we reckon the Hyundai's contemporary styling is the easiest to fall for.
This model is no longer being sold by local distributors
Engine Type
:
4-cylinder in-line MPI Dual CVVT
Horsepower
:
97kW (130 bhp) / 6300 rpm
Torque
:
157 Nm / 4850 rpm
Transmission
:
6-speed (A) H-matic
Acceleration (0-100 km/h)
:
-
Fuel consumption
:
14.7 km/L
This model is no longer being sold by local distributors
Engine Type
:
4-cylinders in-line Dual VVT-i with Valvematic
Horsepower
:
97kW (130 bhp) / 6400 rpm
Torque
:
160 Nm / 4400 rpm
Acceleration (0-100 km/h)
:
11.1sec
Fuel consumption
:
17.5 km/L
This model is no longer being sold by local distributors
Engine Type
:
4-cylinder in-line TSI Turbocharged
Horsepower
:
90kW (121 bhp) / 5000 rpm
Torque
:
200 Nm / 4000 rpm
Transmission
:
7-speed (A) DSG
Acceleration (0-100 km/h)
:
9.3sec
Fuel consumption
:
20 km/L