---
Ssangyong's big MPV is now less of a joke and more of a serious family option.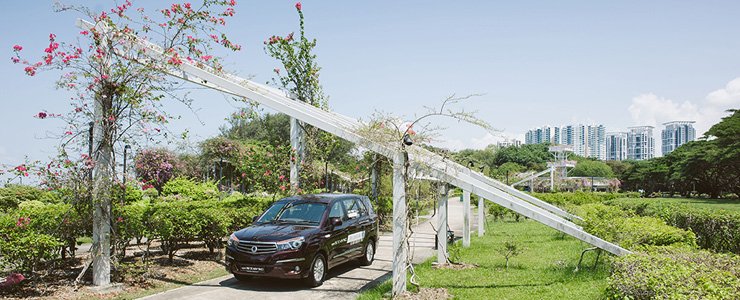 Back in 1991, Ssangyong started a technology partnership with Daimler-Benz, which was aimed at allowing Ssangyong to utilise Mercedes-Benz networks and gain footholds in new markets without having to build their own infrastructure, while giving Mercedes a competitor in the SUV market.
Ssangyong further benefited from this alliance, producing a badge engineered version of the Mercedes-Benz MB100 called the Istana and using Daimler designs in many other models, such as the
Korando
and the Stavic, in their engines and transmissions.
Introduced in 2004, the Ssangyong Stavic, also known as the Rodius, is a large Multi-Purpose Vehicle (MPV), replacing the Istana, and is available in seven and nine-seater configurations.
Locally, the first generation of the Stavic, if you had noticed, was deployed by SMRT as a Space MPV Taxi. And unfortunately, since its inception, the car did not receive much positive feedback with regards to its looks.
Things are about to change with the second generation of the Stavic, which was unveiled at the 2013 Geneva Motor Show, as it sports a contemporary new look that is streets ahead of its predecessor's.
Exterior
Standing at 5,130mm by 1,915mm by 1,815mm (L x W x H), the new Stavic remains as wide as the outgoing model, but is now longer and taller by 25mm and 5mm respectively.
Judging by its size, it may still be considered a beastly and ungainly design, but the restyle has given the Stavic a sharper bone structure and an improved visage up front.
Taking centre stage on its face is a new grille design with links to the new SsangYong Actyon Sports, along with Korando-like swept back headlights.
The hood features sculpted lines that lend a dynamic presence and a commanding stance to the car. New front bumpers complemented with chrome highlights give the car a more prominent look, thus improving the front facet of the MPV.
With a more conservative side view that features simple chiselled lines, the Stavic no longer seems out of proportion. It features a more conventional appearance than the model it replaces, and a slightly less quirky window line.
The rear end has a practical and neat appearance too - while the previous model's Mercedes ML-inspired D-pillar remains, the tent-like design of the predecessor's rear window is replaced by a new wrap-around one that finishes off the more sophisticated look.

Engine Type
:
4-cylinder in-line
Horsepower
:
114kW (153 bhp) / 4000 rpm
Torque
:
360 Nm / 2800 rpm
Transmission
:
5-speed (A) E-Tronic
Acceleration (0-100 km/h)
:
-
Fuel consumption
:
12.8 km/L