---
Mercedes-Benz makes no bones about its extreme intentions with the sleek and handsome CLA-Class.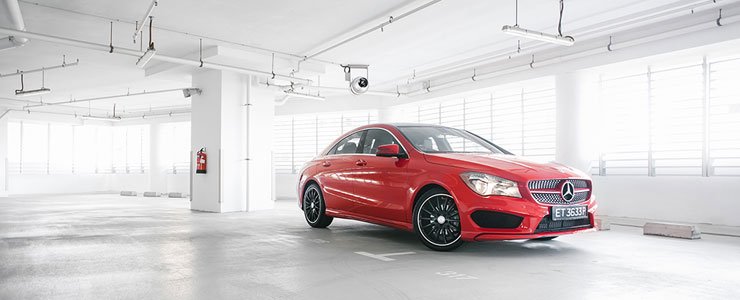 Previewed by the 2012 Concept Style Coupe at various international locations, the CLA-Class was formally introduced to the world early this year at the North American International Auto Show before making its
international launch
in St. Tropez, France, in April this year.
Based on the same modular front-wheel drive (MFA) platform as the
A-Class
and the
B-Class
, the CLA200 kicks things off for Mercedes-Benz and continues its quest to lure the same funky, bold and rebellious audience as the A-Class.
Exterior


You would be forgiven for mistaking the CLA for something else altogether.
Drawing inspiration from the
bigger CLS
, the CLA is essentially a downsized four-door coupe that cuts the same sleek sloping roofline. Along with its bold attitude, the car here shares similar chiselled lines as the CLS, too, but with a less subtle face to make it more extroverted.
While dealers have a tendency to exaggerate how sporty and aggressive their cars appear to be, it's quite warranted here. Banging on an emotional rather than the traditional rational appeal, Mercedes-Benz has distinctively created something like none other cars we've seen before.
At 4,630mm long, 1,777mm wide and 1,432mm tall, the CLA sits low, with a rather shapely nose that resembles the SLS AMG supercar. And when fitted with the optional AMG Line (as our test car here), the scaled down four-door coupe features deeper front air intakes, an aggressive yet pretty diamond radiator and 18-inch wheels that will give the CLA a look that's rather sensational.
Round the back, the CLA is cut very differently too. Rear taillights are oriented horizontally, which emphasises well on the car's breadth without coming off as trying too hard.
We guess the point of creating a car that sports a quasi-coupe silhouette like the CLA, perhaps, is to allow Mercedes-Benz to give another car (other than the CLS) a story that manages to integrate something timeless and original. In more ways than one, it's rather cool because the car resists easy categorisations of different car genres.
This model is no longer being sold by local distributors
Engine Type
:
4-cylinder in-line turbocharged
Horsepower
:
115kW (154 bhp) / 5300 rpm
Torque
:
250 Nm / 4000 rpm
Transmission
:
7G-DCT (A)
Acceleration (0-100 km/h)
:
8.5sec
Fuel consumption
:
18.2km/L