---
The Mercedes-Benz E-Class Cabriolet is a stylish and luxurious car whether you're driving it with the top up or down.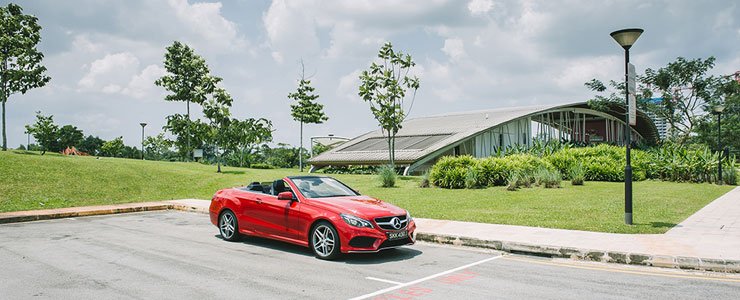 Drophead cars have always been exclusive machines, symbolising ostentatious luxury only you and I can dream of. Mercedes-Benz, however, is more than that. Long, low and large, topless Mercs have always been about style and technological advancement.
Of course, there's more to a cabriolet than just its looks. Unlike a coupe, a topless car has the ability to stir emotions and attract countless stares of awe and admiration. Driving in one will almost be like walking around the street naked - everyone just wants to take a cheeky peek.
Exterior
Still, to describe a cabriolet from just the curves of the sheet metal will be to miss the whole point of the car entirely.
There's always something behind the design that requires more than just that couple of hours to realise. This isn't to say that a cabriolet can't attract cheap chicks but then again, the fact of the matter is, who really cares?
Targeted at the younger and trendier crowd, the E-Class Cabriolet is one car that will, no doubt, grow gracefully with the owner.
Other than the obvious fact that there are ample seating adjustments for the driver to meddle with as he grows in the lateral direction over the years (which we'll get back to in the Interior section), the drophead E-Class, like the rest of the facelifted siblings, takes on a new look one-piece LED headlights, which manage to encompass the E-Class' four headlamps hallmark. Pretty neat.
Equipped with the AMG Sports package here, the car looks appropriately aggressive, with full-blown air intakes that will easily send pesky taxis and other slower moving vehicles scurrying out of the way on highways.
There's an overall solid feel to the sheet metal, and more so the design, that makes you think of precise engineering and longevity. Panel to panel, the joints are superbly done and nicely fitted, further emphasising on quality and attention to details. As a result, the topless car doesn't portray itself as an arrogant and inexperienced machine. Instead it's more mature and sophisticated now.
While its profile is largely unchanged, effective sleek lines in its cabriolet form accentuate the best bits of the E-Class' stunning and sporty stance. Curvy creases on lower body panels further enhance the car's looks, making it sportier and cheekier compared to many others in its segment.
Round the back, taillights carry over their outer shells, but are restyled within the package. Sporting LED lights, rear lamps are now horizontally structured, with a three-dimensional look that give the car a fresher and wider appearance compared to the previous model.
This model is no longer being sold by local distributors
Engine Type
:
4-cylinder in-line
Horsepower
:
155kW (208 bhp) / 5500 rpm
Torque
:
350 Nm / 4000 rpm
Transmission
:
7G-Tronic Plus (A)
Acceleration (0-100 km/h)
:
7.5sec
Fuel consumption
:
14.7km/L