---
Quite some time ago, I went on a trip to the Czech Republic, where we went around hunting for alcohol in the wee hours. We found a bottle of Glenfiddich "Ancient' Whiskey, distilled 18 years ago, on sale for 1,390 CZK, which is the equivalent of around $106.
Alongside was a limited-run "Gran Reserva." This one was distilled 21 years ago, made from exotic ingredients, and was at a whopping 3,900 CZK - three times the Ancient's price. Now while I'm not an erudite, cultured connoisseur of fine wine and spirits alike, I'm absolutely certain there's no way a three-hundred plus dollar bottle of Glenfiddich is going to provide three times the level of enjoyment just because it costs three times the lesser chug of malt.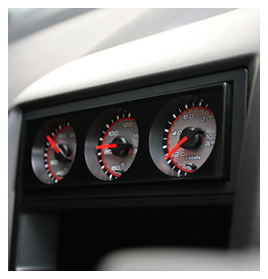 And so that leads me to the Honda Civic Mugen RR. There are only 300 examples to go around (this one's the 119th), without a doubt making it the most sought after of Civics on planet Earth.
It comes only in Honda's exquisite "Milan Red," garnished with bits of carbon fibre on the spoilers, front grille and engine cover. There are two separate exhaust pipes instead of one, and a rear-fog light between them, reminiscent of blinking red wet-weather LEDs found at the back of Formula One machines. The black 18-inch wheels are engraved with that distinctive double-R logo, and the Bridgestone Potenza RE070s specially designed (88Y, 205/40 profile).
On the inside, everything's a sea of angry, Type-R red, from the carpets to the door and seat wing fabric. Surprise, surprise - there's no radio. Filling one out of two DIN slots are gauges that monitor coolant temperature, as well as measure the heat and pressure of the engine oil. The standard Type-R buckets were ditched for carbon fibre-backed ones that force you to be in good shape to fit and tolerate them. Remember, we're not talking about comfort. Even the pedals were modified with rough aluminium surfaces, while the shifter looked noticeably shorter.