The new generation Mercedes-Benz C-Class is a compact, classy and comfortable saloon that sets high standards in its segment.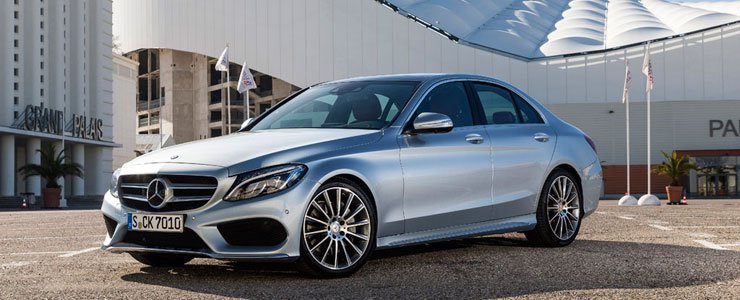 If what you 'C' here is what you get, you'd be driving in the lap of
S-Class
luxury for about half the price. Indeed, the latest C-Class looks like a stylishly shrunken scale model of Mercedes' flagship saloon, especially when viewed from the rear three-quarter angle. Besides boasting some of the S-Class' grand style, the C-Class now also offers a few top-of-the-line features worthy of, well, a flagship.
Compared to the old
W204 C-Class
, the new W205 is up to 100kg lighter, of which 40kg comes from the greater use of aluminium in the bodywork - 48 percent of total surface area (including the roof, doors, bonnet, front fenders and boot lid), versus nine percent for the predecessor (whose 2011 mid-life update included a bonnet made from the light metal instead of steel). By vehicle weight, aluminium now makes up 24 percent, versus just four percent for the old C.

Exterior
More obvious, of course, is the physical upsizing. The new C-Class has grown by 95mm in length and 40mm in breadth, and it sits on an 80mm-longer wheelbase with wider tracks (+41mm front, +23mm rear). With the growth in dimensions, the C is now bigger than the
CLA
, which is how it should be (the previous C is actually slightly shorter from bumper to bumper and narrower than its sibling based on the
A-Class
supermini).
Like before, there's a choice of two different nose designs: one with the tristar emblem parked prominently at the centre of a 'thrusting' grille, and the other with the tristar badge standing proudly on the bonnet, above a classic chrome-laden Mercedes grille. The traditional nose treatment, only available with the Exclusive equipment line, suits an 'uncle', whereas the sleeker facade is meant for his 'nephew'.
But both gentlemen will be equally impressed by the Airpanel, a factory option for the trad radiator grille that uses moveable shutters to regulate the frontal air flow (and resistance) according to the amount of cooling required for the engine - if the ventilation situation allows, those louvres can close the grille's 'Venetian blind' completely to help the front end cut through the air more efficiently.
The Airpanel is the most, um, dynamic part of the car's aerodynamics package, which translates into a drag coefficient (Cd) as low as 0.24, achieved by the C220 BlueTec BlueEfficiency model with aero-optimised wheels.
The previous model couldn't do better than a Cd of 0.26. Other wind cheating tricks include a smooth underbody, 'hidden' wheel arch canards, a winglet-shaped brim for the notchback, and so-called separation edges integrated with the taillight clusters.