The 2 Series Active Tourer may be BMW's first front-wheel drive model and its first Multi-Purpose Vehicle (MPV), but contrary to its looks, it's the most dynamic family box around.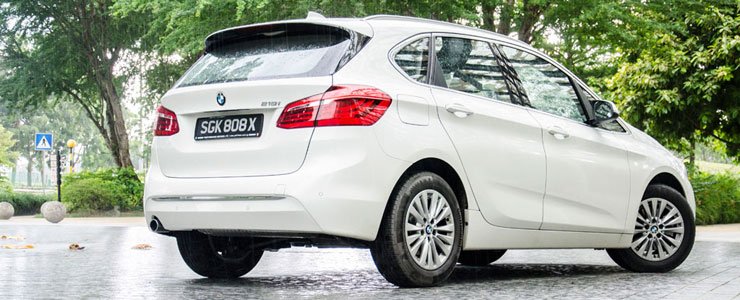 The Drive

This is the area where the Active Tourer stands out from others in its segment. Again, purists may decry its front-wheel drive, but to the average driver who won't be attempting powerslides, the difference isn't noticeable.

Instead, drivers will notice just how enthusiastic the 1.5-litre turbocharged engine can be. 136bhp and 220Nm of torque may not sound like much, but behind the wheel, the engine feels immensely sprightly, with a healthy dose of growl and a lot of ample pull when you engage the 'Sport' mode.




In a way, there's something for everyone in this car. With the missus riding shotgun, you could ease the car along with a pleasantly cushioned ride insulating against the imperfections on the road. In the event that you get distracted by conversations, the suite of safety features such as the Lane Departure Warning will help keep you in lane.

For more spirited driving, the car will be able to keep up with you. Paired with a six-speed automatic, the Active Tourer makes the century sprint in 9.2 seconds before topping out at 205km/h. These figures may be modest, but on the go, the car feels far quicker than that. Round the corners, the car's responsive steering will take you neatly through corners. There will be body roll, but given the dimensions of the car, it's inevitable.
But we do have some minor gripes. On our test drive, we found the car to be at its refined best in the mid-range as some vibrations could be felt at lower speeds.

The engine's fuel-saving automatic start-stop function also didn't feel as refined as the other BMWs, coming on with a noticeable shudder when it was time to move off. Plus, the downside of the car's eagerness to rev will mean that it will take a lot of discipline to achieve the 19.2km/L published fuel return.




Conclusion

Nit-picking aside, the Active Tourer proves to be a surprisingly refined package for a car positioned to be 'entry-level'. With its eager engine that can straddle between dynamic and efficiently comfortable driving, and a level of trim that's luxurious, the Active Tourer has set the benchmark for what we can expect from the next generation of BMW models.

Plus, if one were to factor in the host of convenient features like park assist, it becomes apparent that BMW has gone a little out of its way to spoil its customers. When it comes down to getting the most bang for your buck, we are very grateful for that.

Engine Type
:
3-cylinder 12-valve TwinPower Turbocharged
Horsepower
:
100kW (134 bhp) / 6000 rpm
Torque
:
220 Nm / 1250 rpm
Transmission
:
6-speed (A)
Acceleration (0-100 km/h)
:
9.2sec
Fuel consumption
:
18.1 km/L