---
There is absolutely no doubt that Mitsubishi has crafted some smart updates for the Outlander that make it more refined than ever.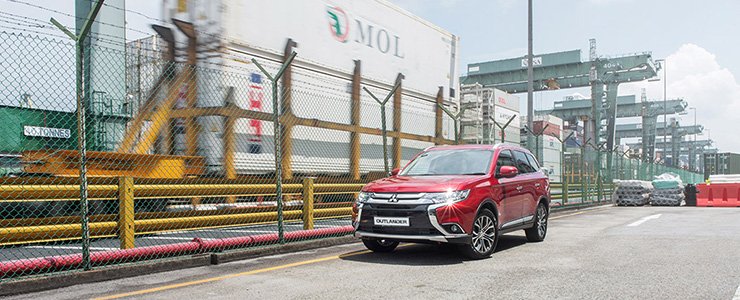 If you find the
Mitsubishi Outlander
really familiar and that you have recently seen it somewhere on our Reviews section, you aren't wrong. Indeed, the third generation SUV, which was launched in 2012, only arrived on our shores last year, as part of the tri-diamond brand's comeback plans.
To further rejuvenate the brand, Mitsubishi has given its SUV a substantial refresh. It's not all new by any stretch of imagination, but changes have been made in the right areas, from our point of view at least.

Up close and Personal
Mitsubishi's new design concept - Dynamic Shield - makes its debut here and it definitely does a big part in differentiating this model from the outgoing one. To our eyes, the Outlander looks more cohesive and attractive than before.
New LED headlamps and daytime running lights flank the new front fascia that features more chrome highlights while a chin spoiler adds a rugged touch - a gentle reminder that the Outlander has off-road DNA embedded within.
Adding a sense of athleticsm are flared wheel arches and a lower door garnish that breaks up the profile for an aggressive and tough look.
Changes are less obvious over at the back, where a slight nip and tuck has granted the rump with more attractive red LED units that replace clear taillights.
The cabin sticks to the same neat layout as before but it gains a new wood-like trim, new stitchwork on the seats, improved headlining as well as a more premium leather wrap on a brand new steering wheel.
Accommodation is available for seven pax and there is good headroom and legroom for three Asian adults in the second row, but think of the third row as a backup plan for carpool duty or for the younger ones.
That said, there is still plenty of practicality to be had - the second row slides 250mm fore and aft to fine-tune legroom, the seats fold flat, and the cargo floor is rather low for easy loading and unloading.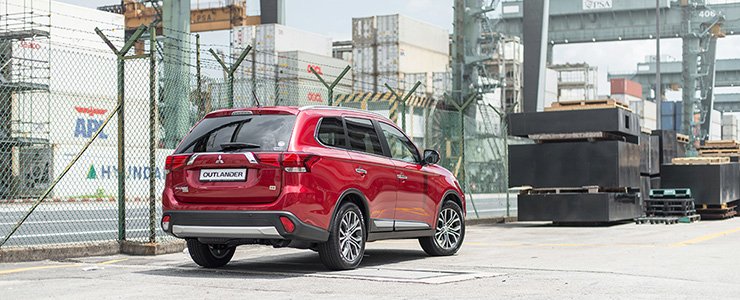 The Drive

One of Mitsubishi's greatest goal was to make the Outlander's cabin quieter. To achieve this, 39 noise, vibration and harshness (NVH) improvements have been applied to areas such as the doors, floor, engine and transmission.

After a day behind the wheel, it's obvious how much quieter the SUV is as compared to the outgoing model. And as an added bonus, the doors close with a higher quality sounding thud.


All of this extra soundproofing does add to its weight. Nonetheless, the 2.4-litre engine that was carried over manages to offset the weight gain with smooth and refined power delivery.

It's mated to a new and improved INVECS-III CVT gearbox that's undergone a few enhancements to provide snappier performance.

The transmission has been re-engineered to improve the immediacy in which power is delivered and as a result, the 0 to 100km/h sprint has improved by a second. More impressively, it does not 'whine' as much as other similar gearboxes.

Mitsubishi's all-wheel drive system known as All-Wheel Control (AWC) also comes standard. The system channels power through the front wheels in normal use, but it redirects torque to whichever wheel it senses is slipping to ensure high traction.

The ride quality has definitely improved, with better bump absorption over road inconsistencies, and although the car can feel a wee bit wobbly and spongy through some corners, its body control does feel more composed and compliant than before.


Conclusion

Under the Outlander's updated sheet metal, several engineering improvements contribute to a better overall sense of refinement and makes the SUV a genuine all-rounder.

We rest our case.



Engine Type
:
4-cylinder in-line 16-valve DOHC MIVEC
Horsepower
:
123kW (165 bhp) / 6000 rpm
Torque
:
222 Nm / 4100 rpm
Transmission
:
6-speed (A) INVECS-III CVT
Acceleration (0-100 km/h)
:
10.2sec
Fuel consumption
:
12.3 km/L