The Opel Insignia, Toyota Camry and Volkswagen Passat have grown to become scrupulous sedans that offer more than just the basic transportation necessities for the family.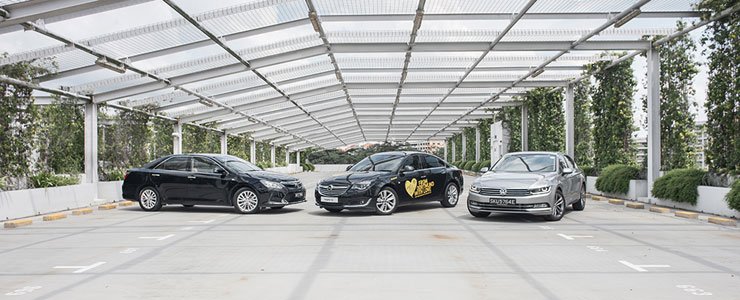 Somewhere between entering your 20s and getting closer to 30, you realise that your friends are getting married and becoming part of a segment we call - young families with kids. Coffee shop talks about which exhaust system works best on your
Suzuki Swift Sport
are slowly replaced by debates about the best family sedans in the market.
Three names that came up during one of our usual Sunday
kopi
sessions were the Opel Insignia, the
Toyota Camry
and the
Volkswagen Passat
. Although the Insignia hasn't enjoyed the same levels of success as the Camry or the Passat, it seems like it deserves a little more recognition that it currently receives.
And since Volkswagen has launched the new Passat, we decided to find out how the Insignia and Passat compare against the Camry, which has long been a staple in the family sedan segment.
Exterior


The Insignia was designed around Opel's multi-award winning design philosophy - sculptural artistry meets German precision. This philosophy expresses premium aspiration and dynamics with an unmistakable wide and low frontal visage that visually pronounce the Insignia's wide stance.
Also echoed in the rear, the Insignia features a wider and lower proportioned rear end design. Its enthusiastic design gives it a quirkier French feel than the more serious expressions on the Passat.
Toyota has designed the Camry bolder than ever before - thanks to a new gaping grille, sleek head lights and slashes adorning the lower front corners. Edges and corners have been given a touch of elegance while the taillights are redesigned to integrate well with the chrome bar that runs across the boot.
However, the more 'prominent' and 'premium' Toyota Camry still lacks the road presence that the Passat exudes.
Now in its eighth generation, the Volkswagen Passat's refined sheet metal slots it in between the mainstream and premium areas of the family sedan segment. Volkswagen has redesigned the Passat with shorter front and rear overhangs and tightly drawn lines to give it a more dynamic stance than its predecessor.
Together with a fancy four-bar chrome grille and swept-in headlamps, the Passat appears to be the sportiest and classiest of the three.
This model is no longer being sold by local distributors
Engine Type
:
4-cylinder in-line 16-valve Turbocharged
Horsepower
:
125kW (168 bhp) / 6000 rpm
Torque
:
260 Nm / 3200 rpm
Transmission
:
6-speed (A)
Acceleration (0-100 km/h)
:
9.9sec
Fuel consumption
:
14.3 km/L
This model is no longer being sold by local distributors
Engine Type
:
4-cylinder in-line 16-valve DOHC Dual VVT-i
Horsepower
:
133kW (178 bhp) / 6000 rpm
Torque
:
231 Nm / 4100 rpm
Transmission
:
6-speed (A) Super ECT
Acceleration (0-100 km/h)
:
9.2sec
Fuel consumption
:
12.9 km/L

Engine Type
:
4-cylinder in-line 16-valve TSI Turbocharged
Horsepower
:
133kW (178 bhp) / 6200 rpm
Torque
:
250 Nm / 5000 rpm
Transmission
:
7-speed (A) DSG
Acceleration (0-100 km/h)
:
7.9sec
Fuel consumption
:
16.9 km/L