---
Volvo's V40 T2 is an impressive model that's a genuine rival to the rest in its segment. But is it good enough to topple the polished Audi A3 Sportback and outvalue the Peugeot 308?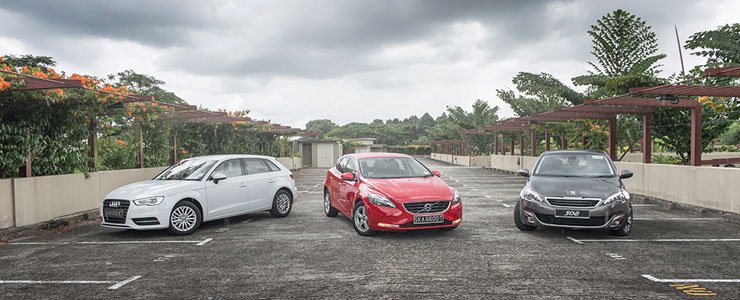 Contrary to popular belief, hatches can be more practical than sedans. They offer drivers the best of both worlds, combining modest dimensions with the added usability of a 'fifth door', which provides impressive cargo space.
Plus, these compact runabouts also tend to be more stylish and youthful than their sedan counterparts.
This month, we take a look at three European hatches, the
Audi A3 Sportback
, the
Peugeot 308
and Volvo's new
V40 T2
.
Exterior
Simplicity is the ultimate sophistication and the A3 Sportback represents this notion perfectly. In our opinion, not even the presence of its more progressively designed competition seems to have dented the Audi's visual appeal.
Despite being the most mature-looking of the three, the A3 Sportback's tautly curved surfaces and understated roof spoiler exude a sporty enough nature that will suit all occasions, whether you're rolling up to a black tie event or a house party.
Going against the usual French architecture, the 308's sheet metal speaks a completely different design language compared to Peugeot cars of old.
With a fresh and elegant look comprising of a smaller front grille, distinctive head light design and overall cleaner lines, the 308 has obviously ventured a step upmarket.
And despite being considerably cheaper than the A3 Sportback, the French car doesn't seem to have any qualms looking just as sharp when parked next to the Audi.
However, if you prefer something with a more hot hatch-like appeal, the V40 could be the answer. Its athletic, low and wide demeanour is foxy by Volvo standards and according to the brand, is designed around the practical individual with a passion for adding spice to life.
Judging from the V40's muscular stance, we can't agree more.
This model is no longer being sold by local distributors
Engine Type
:
4-cylinder in-line Turbocharged
Horsepower
:
92kW (123 bhp) / 5000 rpm
Torque
:
200 Nm / 4000 rpm
Transmission
:
7-speed (A) S-tronic
Acceleration (0-100 km/h)
:
9.3sec
Fuel consumption
:
20 km/L
This model is no longer being sold by local distributors
Engine Type
:
3-cylinder in-line 12-valve DOHC PureTech Turbocharged
Horsepower
:
96kW (129 bhp)
Transmission
:
6-speed (A) EAT6
Acceleration (0-100 km/h)
:
10.7sec
Fuel consumption
:
19.2 km/L
This model is no longer being sold by local distributors
Engine Type
:
4-cylinder in-line 16-valve Turbocharged
Horsepower
:
91kW (122 bhp) / 5000 rpm
Torque
:
220 Nm / 3500 rpm
Transmission
:
6-speed (A) Geartronic
Acceleration (0-100 km/h)
:
9.8sec
Fuel consumption
:
18.2 km/L