---
Given our sizzling climate, who can we turn to for reliable solar films? There may be ample brands for drivers to choose but there's only one we can trust.
What are the Land Transport Authority (LTA) guidelines and regulations for solar films?
There are some key pointers you should be aware of in order to pass your regular car inspections. This is to ensure that you do not end up having to pay a hefty fine for over-tinted windows. Cars must fully comply and satisfy the following regulatory guidelines set by the Land Transport Authority (LTA):
1) They must not be of the reflective type.
2) The resultant light transmittance for the front windscreen and two front side windows must be at least 70%.
3) The resultant light transmittance for the rear windscreen and the rear passenger windows must be at least 25%.
4) The front windscreen must not prevent, obstruct or interfere with the transmission of signals between the In-vehicle Unit (IU) and Electronic Road Pricing (ERP) facility.
Thus, if your glass panels are already tinted, do ensure the solar film that you get is not bordering on the minimum required light transmittance level.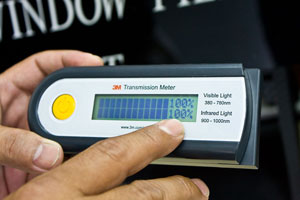 Testing of 3M solar film using the transimssion meter
Installation of solar films

Do not have your car's solar films installed in an open area. Make sure that the solar films are installed in a dust-free environment to prevent dust particles from causing your window panels to look dirty.

Furthermore, installation of car solar films should be carried out by professionally trained installers. This is because having a trained installer to install the solar panels cuts the possibility of oxidisation cracking, peeling and water bubbles forming on your window panels. It takes about 2-3 hours to get the solar films installed in a typical sedan.

Upon the completion of installation, the merchant or the installers will usually advise you on how to care for your solar films, especially for the first couple of days. One of the most common pointers would be to refrain from winding down your car windows for the next two to three days. This is because it takes time for the film to dry completely and winding down the windows may cause the edges of the films to peel off the window panels.

Another thing you should probably know is that solar films dry faster and more effectively in the presence of heat. Hence, keeping your car under the Sun for a couple of days will help to speed up the drying process. Do also allow a minimum of one week after installation before you clean the surface to ensure complete bonding of films to windows. Abrasive type cleaning agents and bristle brushes which will scratch the film should not be used. It is recommended to use synthetic sponges or a soft cloth with cleaning solution.
Address
:
Blk 1045 Eunos Avenue 4 #01-130 S(409795) (map)
Opening Hours
:
9am - 6.30pm (Mon - Fri) 9am - 4pm (Sat) Closed on Sun & PHs
Phone
:
62433448 / 96323448
Related Categories
Recommended Merchants(View all)