There's more to solar films than just protecting car occupants from the Sun's harmful UV rays. Learn more about them here.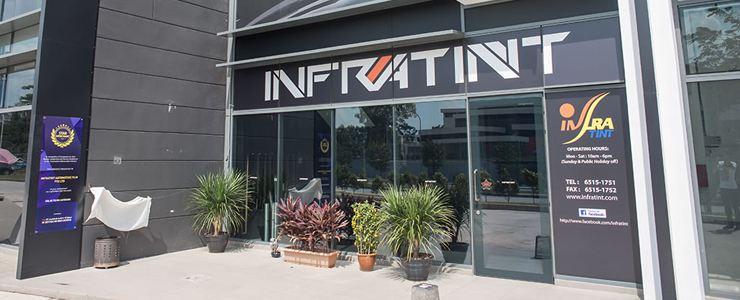 Rules & regulations
Similar to other after-market modifications, LTA has list down a set of regulations for window films:
Solar films must not be of reflective nature.
The resultant light transmittance for the front windscreen and two front side windows must be at least 70%.
The resultant light transmittance for the rear windscreen and the rear passenger windows must be at least 25%.
The front windscreen must not prevent, obstruct or interfere with the transmission of signals between the In-vehicle Unit (IU) and Electronic Road Pricing (ERP) facility.
While owners may set off in search for their ideal product, it is just as important to ensure that the solar film passes the local regulations, so as to have a peace of mind during the use.
Why choose Infratint
Tested and proven to block up to 99.6% of harmful UV rays and 99% of Infra-Red rays (IRR) from the Sun, Infratint solar films also acts as a layer of protection for the incumbents against the harmful radiations. As a result, the film is effective in keeping the interior of the car cool on a scorching day.
More importantly, Infratint solar films have undergone testing at the local and Malaysian authorities, and is compliant to both LTA's and JPJ's set of visual clarity regulations. While the film acts as an effective layer of protection, it ensures clear vision at all times, and does not hinder any data transmission or signals from the In-vehicle Unit through the windscreen.
With a team of trained specialist tasked with the installation of the film, quality of the finished product is also assured. Moreover, as solar films need to be installed in a dust-free environment to prevent dust particles from causing the window panels to look dirty, it is important that solar films are not installed in an open area. Considering this vital factor, Infratint is equipped with a fully air-conditioned installation facility which helps to ensure that the application process is free from dust and pollutants.
With Infratint's Sputtering Technology combined with their professional installation, they are able to minimise the possibility of oxidisation, cracking and peeling, as well as reduce glass failure. Plus, they have three different packages available to suit your requirements: Smoke (with 2 years warranty), Titanium (5 years warranty), and Platinum (7 years warranty), assuring quality that lasts to give owners a peace of mind.
Product with installation for normal sedans starts from $188, with prices starting from $238 for MPVs and SUVs. Infratint Automotive Film is located at 32 Old Toh Tuck Road, I.Biz Centre, #01-10. For more information and user reviews on Infratint Automotive Film, please click
here
.
Address
:
32 Old Toh Tuck Road #01-10 I.Biz Centre S(597658) (map)
Opening Hours
:
10am - 6pm (Mon - Sat)
Phone
:
94560888 / 65151751
Related Categories
Recommended Merchants(View all)