The Euro 6 emissions standards that will kick in in two weeks are offering vehicle buyers here some bargains, but also triggering a few headaches. Here's what you need to know in a nutshell and why you should care.

The story:
With
Euro 6 emissions standards
taking effect in two weeks (1
st
September), car buyers are offered discounts as dealers rush to sell off models that do not meet the new standards.
Key facts you must know:
1. The aim of Euro 6 is to reduce levels of harmful car and van exhaust emissions, both in petrol and diesel cars. This includes Nitrogen Oxide, Carbon Monoxide, hydrocarbons and particulate matter.
2. Some popular non-compliant models from Authorised Distributors (ADs) such as Chevrolet and Hyundai are being sold at discounted prices. Popular models from Parallel Importers (PIs) include the
Toyota Harrier
and the Honda Shuttle.
3. Some new Euro 6-compliant models from ADs such as the
Chevrolet Cruze
and
Captiva
are expected to go on sale early next year.
Why you should care:
1. Existing cars on sale now that do not meet the Euro 6 standards will most likely come with a lower price tag, which is good news for potential car buyers.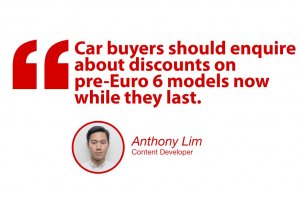 What you should do:


1. If you're on the lookout for a new car, you should find out more about bargain deals on existing stocks now while they last.


2. Keep your options open. If the car you're looking for isn't available via ADs, you can try PIs as well.
Editorial reaction:
This is certainly good news for potential car buyers right now. The National Environment Agency (NEA) made this announcement about the
regulation change
three years ago, which gave dealers ample time to clear their stocks. However, some dealers are still scrambling to clear their existing stocks, and this means that significant discounts can be had for car buyers.
Do note that this new regulation will only affect new car buying, not existing car ownership, as it only takes effect from the point of registration. Car owners who are already driving non Euro 6-compliant cars need not worry about the new ruling. It will not surprise us if the NEA offers a slight extension, to give dealers more time to clear their existing stocks.
Related Categories
Recommended Merchants(View all)