24 car-related fees will be raised, with effect from 20th December. Here's what you need to know in a nutshell and why you should care.

The story:
Starting from 20
th
December, the Land Transport Authority (LTA) will
raise fees
on a wide range of vehicle-related services.
Key facts you must know:
1. A total of 24 vehicle-related fees will be increased by the LTA, as a result of the rising cost of services.
2. Registration fees will go up from $140 to $220, transfer fees will increased from $11 to $25, and the cost to lay up a vehicle will more than triple from $5.35 to $17.12.
Why you should care:

1. A wide range of administrative fees will be increased, and these fees will likely be transferred down to buyers and car owners.


What you should do:


1. Be mentally and financially prepared to fork out slightly more come 20th December when these administrative fare hikes take effect.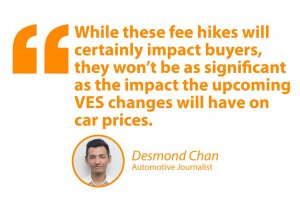 Editorial reaction:
These hikes will certainly be felt by car owners, especially since some of these fees have largely remained unchanged for more than 10 years.
However, the reality is that these fees are relatively insignificant when compared to the overall cost of a car. In fact, the upcoming new Vehicle Emission Scheme (VES) will have a significantly larger effect on the price of new cars, on top of the existing taxes like the Additional Registration Fee and Certificate of Entitlement.
Related Categories
Recommended Merchants(View all)