COE premiums continue to dip, with Cat A being the lowest since March 2010. Here's what you need to know in a nutshell and why you should care.

The Story:
In July's first
COE
bidding exercise, premiums for Cat A, for cars up to 1,600cc in engine capacity and with an output of no more than 130bhp, decreased by $9,110 (26.7%) and ended at $25,000. This is the lowest Cat A has been since the $28,389 of March 2010.
Key facts you must know:
COE premiums for all car categories decreased once more, with premiums reaching their lowest point this year.
The general downward trend has been going on for the last six months, despite the move from the CEVS to the stricter VES and the shrinking of COE quota as part of the Government's zero-growth stance for car, motorcycle populations.
The drop in demand, and the recent flooding of Uber's unhired fleet into the used car market, has largely contributed to the lower COE premiums.
Why you should care:
For buyers initially worried about the increase in prices of brand new cars, this represents a good opportunity to begin shopping around.
For car owners who plan to revalidate their car's COE, now's also a good time.
What you can do:


The dip in COE premiums may continue, due to the large COE supply from the 97,348 vehicles registered in 2008 (according to LTA statistics), of which many are due for deregistration until the end of this year. Whether it's a new car you've got your eye on or a renewal of your existing car's COE, now's the time to take action.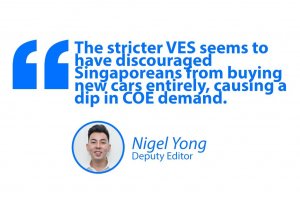 Editorial Reaction


Low COE premiums is always great news but it's important to remember that once demand for the almost-new cars, which Uber left behind has been exhausted, and the cars sold, we can expect attention of car buyers to return to new ones.
That, and the reduced number of deregistration of cars in 2019 (only 68,862 new car registrations in 2009), will likely begin driving demand and premiums for COE up in the future.
Related Categories
Recommended Merchants(View all)