ARE YOU GETTING RIPPED OFF ON CAR INSURANCE?
We gather some insurance quotes to find out how much of a difference the various insurers are charging for motor insurance with similar coverage.
Text | Idris Talib
Graphics | Adam Ging
Car insurance is something that all car owners in Singapore have to deal with, and it is part of the costs of owning a car.
Expensive car insurance will certainly put a dent in your running costs. Have you wondered how much of a difference it makes if you compare insurance quotes?
We started this to find out if there was an outright winner when we compare insurance companies in terms of the cheapest and most expensive quote, and if age makes a difference.
We have created four profiles that will be insuring the same car, a 2016
Honda Vezel Hybrid
. We will assume that their driving experience starts from 18-years old.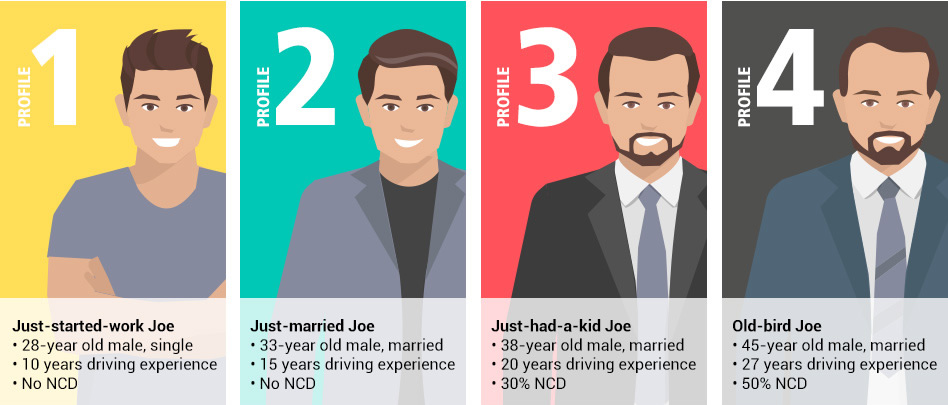 We pulled some insurance quotes for these profiles. All quotes are for comprehensive insurance coverage, with common add-ons such as:

- Being able to go to any workshop of your choice for repairs
- Getting transport allowance while your vehicle is under repair
- A low excess (the amount you will be required to pay when you make a claim on your policy) of around $500.

We will include the No Claims Discount (NCD) in the quotes. So, let's get down to business and get the numbers:

Disclaimer: We assumed that the coverage for the policies are similar based only on the above parameters. We did not take into account that the policies could differ in terms of other parameters such as cap on self-injury claims, who is insured to drive, etc.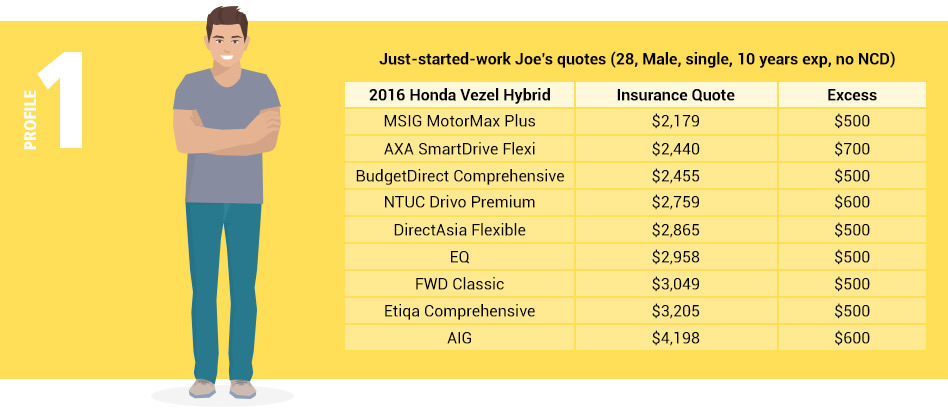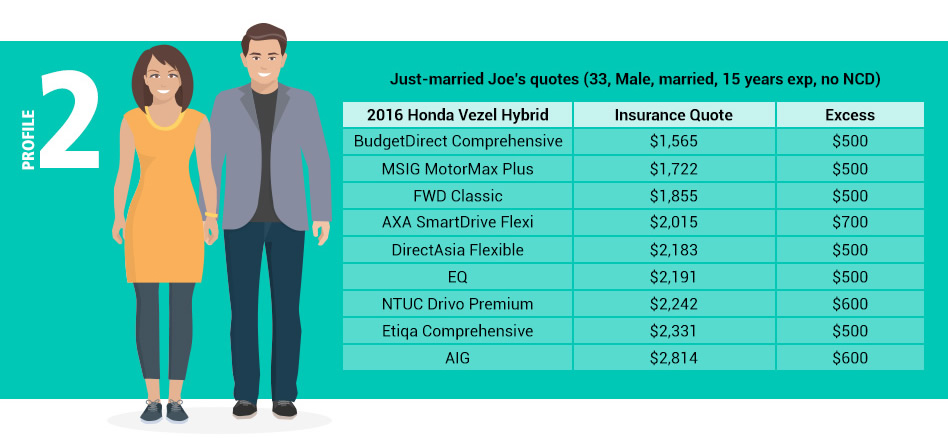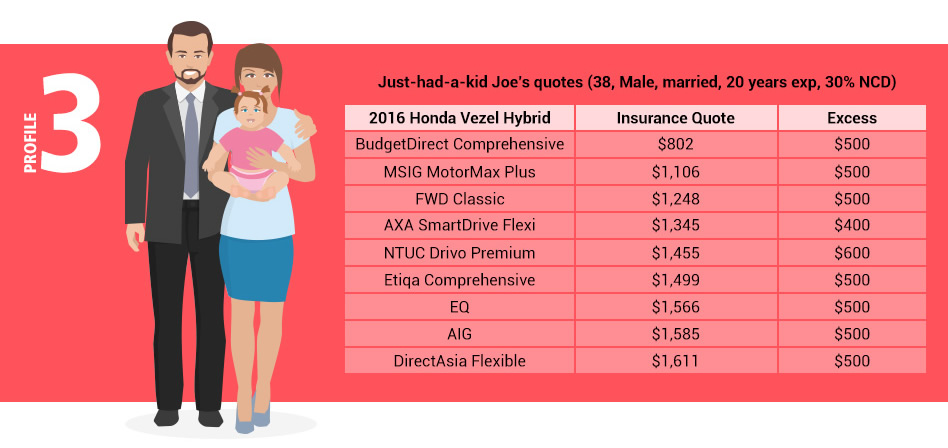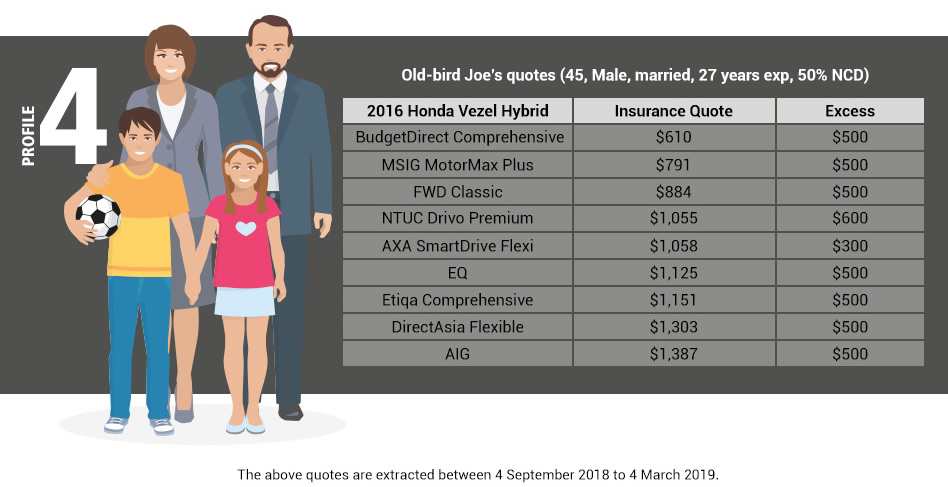 So what are you trying to tell me?
Insurers adopt a 'risk factor' rating system which takes into account the insured driver's age, driving experience and claims history (if you've made a claim before, it would affect your NCD). If you notice, the insurance premiums become cheaper as the 'risk factor' decreases.
From our research, our findings are as such:
1.    On average, BudgetDirect is the cheapest, AIG is the most expensive.
Summing up the insurance premiums across all the four profiles, the cheapest insurer on average is BudgetDirect at $1,358. The most expensive insurer is AIG at $2,496.
That makes for a staggering 45% difference in price even though the coverage provided is similar.
2.    Regardless of your profile, it makes sense to do a comparison.
We calculated what was the difference between the cheapest and most expensive insurer for each individual profile. For each profile, the price variance is always more than 40%. So always compare, because you'll never know; you could be saving 40% by switching!
Just-started-work Joe
- 48%
Just-married Joe
- 44%
Just-had-a-kid Joe
- 50%
Old-bird Joe
- 56%


3.    There is no one single cheapest insurer.
While AIG had the most expensive quotes across all four profiles, BudgetDirect was not always the cheapest.
BudgetDirect Comprehensive had a rather pricey quote for Just-Started-work Joe, but as the profiles increased in age, driving experience and a stellar claim history, they were listed as the cheapest as seen in Just-married Joe, Just-had-a-kid Joe and Old-bird Joe profiles.
MSIG was the cheapest for Just-started-work Joe, but disappeared off the charts for the rest of the profiles.
4.    The NCD plays a major role in lowering your insurance premiums
If we remove the NCD discount from all the profiles, the difference in the average price across Just-married Joe, Just-had-a-kid Joe and Old-bird Joe is no more than 10%!
This means that generally, insurers consider Just-married Joe (33, male, married, 15 years driving experience) as a safe driver. The insurance premiums from then on will be largely determined by just the NCD. (Just-started-work Joe is not yet considered as a safe driver, so having NCD does not significantly reduce the insurance premium)
Try your best not to get into any accidents!
5.    If you compare, you can pay less
If Just-started-work Joe had insured with the cheapest insurer on average, BudgetDirect, instead of the cheapest insurer for his profile, he would still have paid 12.6% more.
Switching to a different insurer will not incur any penalties nor will it affect your NCD, so why pay more?
If you diligently do a comparison between insurers whenever your insurance is due for renewal, you can save a lot of money!
The best and easiest way to do that is through the sgCarMart
insurance comparison service
, which will help you search for the cheapest quote from 10 insurers. All you have to do is fill up some information and you will get the quotes by the next day.
Compare from 10 insurers with our trusted broker. Hassle Free!

Save up to $629 on your car insurance renewal

We handle accident claims and protect your NCD

24/7 roadside assistance

All done from the comfort of your home