Past Car
Models no longer being sold by local distributors.
Model unavailable since Nov 2008
Car Review - Chery T11 2.0 (A)
01 Dec 2009 | Chery Reviews
Looking for an affordable SUV that does more than just look the part? The badge adorning the hood might turn some away but a test drive will definitely make a T11 fan out of you.
Consumer Reviews of Chery T11
OVERALL RATING
17 Reviewers
3 out of 5

Comfort
3/5
Reliability
2.5/5
Handling
3/5
Features
3/5
Exterior Styling
3.5/5
Interior Design
2/5
Value for money
3.5/5
Engine Performance
2.5/5
12 out of 17 (70.6%) reviewers said they would recommend this vehicle to a friend.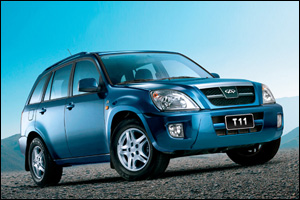 Chery T11
3 stars - based on 17 reviews