CAR MAKES

SPONSORED CONTENT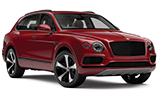 Bentley Bentayga F1 Auto Cars Edition
The classy SUV now made available with F1 Auto Cars today. Ready stocks in a range of colors for viewing. Click to find out more!
Consumer Car Reviews
First encounter into EV. Test drive. No turbo lag, smooth drive but needs to get used on degenerative, which is different from usual ICE cars. Almost no need to step on brake pedal, which kinda of strange but can be easily overcome. No complaint on price point (*excluding COE factor) that the car comes with many cool efficiency features & importantly that instant power rushing in upon pressing onto accelerator. Seriously consider to change Model Y, even I just gotten my new conti ICE car in Jul 2022. Concerns on charging points can be resolve progressively, especially more points are in construction pipeline.
The Subaru Forester is a good car. However,the materials used inside the car are not as high quality as the ones used in other cars such as the Toyota RAV4.
I like that the fact that the Nissan Serena is a very roomy and spacious car.There are also many clever features such as the sliding doors.The Nissan Serena also has a excellent feel economy for a seven seater MPV.Inside the interior, there are many places to put your things.



FEATURED RESOURCES


---

---

COE Results
Latest COE bidding results and historical price trends
---

---

---

---

COE RESULTS

Round 2
November 2022
Brought to you by:

CAT A
$90,589

CAT B
$113,881

CAT C
$81,802

CAT E
$114,009
POPULAR CARS BY VEHICLE TYPE