CAR MAKES

SPONSORED CONTENT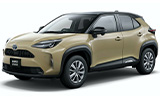 Toyota Yaris Cross Venture Cars Edition
2021 launched Yaris Cross! Take advantage of the huge CNY promotions we have now!
Consumer Car Reviews
I bought a used 2017 k3 ex model when it was 3.5 years old and kept it for 11 months. Drove about 14,000 km on it. It was my 1st car so u wanted something reliable and fuss free. Fuel consumption ranges from 12 km/l to 13 km/l. I use cruise control function whenever I'm on the expressways which can improve fc to almost 16 km/l. Good luck trying to get C&C to replace parts. Make noise and write in to complain if you have to. The car is not speedy off the blocks which can be frustrating but it's not a major issue. I didn't have any issues with the car. Only my rear suspension needed replacing which took a long time before C&C agreed to do. Likes: 1) low maintenance 2) reliability 3) excellent fuel consumption 4) cruise control Dislikes: 1) initial pickup could be better 2) C&C can be a pain to deal with despite car being under warranty
I bought over a 2nd hand 2.0 CX-3 deluxe that launched in 2018. Only a week with the car, I would really have to say that the acceleration is quick enough for me (spirited drive) given that my former car was an old 1.5 Honda city. The car does not feel underpowered for me. It is quick with good responsive steering. As my son is only in primary two now, I don't need much rear legroom. I'm at 1.78m and at my driver's seating, I am still able to sit at the back although seat is almost touching my knees. Boot is small but manageable since I don't carry much stuff. Technology such as auto park, hold, cruise control and LED lights and the best part is very dated to me. Best part is that the bose speakers are fantastic. So I'm really happy with this car. Although I have considered other Korean brands that are spacious with dated tech, but I don't think 1.6cc is sufficient for me given the specs and weight.
Upgraded from a supermini to Vezel 2021 and the spaces I get out from it was generous! Legroom for the rear passenger, spacious. Legroom for the front driver and passenger even with the huge legroom at the rear, outstanding. Honda did a great job in having the interior size expanded (even compare to the old variant for Vezel). Externally, it was all new design. At a glance, it looks like a smaller version of Harrier, and looks much bigger than the old Vezel. Internally, even though there are still hard plastic here and there to keep the cost down, everything still looks and feels great (thinking that leather overtime will turn out sticky, espcially on the dashboard). I purchased this car due to needing to put a baby stroller and also a baby child seat. When not needed, the baby seat could just be kept in the boot with no issue and will be able to sit 3 adults. Overall, given the price, size and specs for Vezel (unable to comment on HR-V as it had not been launched), I'm all good for the Vezel! Once HR-V is launched, we will see what's the main difference between the current Vezel and the new HR-V.



FEATURED RESOURCES


---

---

COE Results
Latest COE bidding results and historical price trends
---

---

---

---

COE RESULTS

Round 2
October 2021
Brought to you by:

CAT A
$52,709

CAT B
$80,210

CAT C
$40,501

CAT E
$85,000
POPULAR CARS BY VEHICLE TYPE