CAR MAKES

SPONSORED CONTENT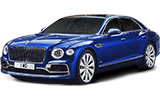 Bentley Flying Spur F1 Auto Edition
The LATEST Flying Spur. The perfect marriage of Class, Elegance and Superiority.
Consumer Car Reviews
I've recently switched to a Merc A class sedan, formally driving jap/korean cars for the last 10 years. To be honest the A class sedan is an understated model compared to the Audi A3 and BM 2 series in the same segment. The interior with its MBUX system is second to none, and the cabin feels futuristic and comfortable. The space and comfort level is great a young family like mine with 2 kids. Even with a baby car seat, the space at the back is decent and boot as well. Overall driving experience is smooth, esp on highways. The exterior looks are beautiful and u might mistake it for a C class from certain angles. The A class sedan should be a compelling option for those want a Merc at a good price entry point!
Went by the showroom to catch a glimpse of this SUV. Paired with 4.0L Mercedes AMG V8 engine, delivering over 500 horses. It certainly looks to be good. Exterior is a well shaped SUV, not so large like Range Rover, not so small like GLA but a little larger than a Macan. Comes with full LEDs, panaromic sunroof, powered tailgate. Interior is an exquisite Aston Marin design, with the standard gearbox in a series of buttons on the top that you see in all other models. Virtual cockpit is there for informative purposes and allowable to change of many features and seeing many gadgets too, giving a taste and sense of luxury but not to the extreme at all. The drive, which is the most important, compared to looks and interior you see in a typical Aston Martin. When you start the engine, the EXCITING roar of its 4.0L AMG AWD comes into life and gets ready to go. Paired with a AMG 9-G gearbox, the moment you press D, the ENGAGING drive comes on, giving you the sense of engagement of its drive train without being pushy to dash. Overtaking, cornering becomes an exhilarating word to use when you drive this DBx. Many modes to choose from whereby the usual drive is not called comfort but something else that I cannot recall. Lol. Once you go into Sports mode, you can feel its engaging moments once again that steering is stiffen and sounds of suspension tunes, then feel its dynamism. Wonder if James Bond, 007 will use DBx in the future movie ? Overall, DBx gives you the in between if you are looking to have in between of both performance and luxury in a SUV, compare to other models like Lamborghini, Range Rover, BMW, Mercedes, Porsche, that is in each individual category.
I am driving the 2018 Audi A3 1.0L There are many things to love about this car The pick-up is decent, the drive is comfortable and the fuel economy is great, especially with current pump prices The thing that I cannot accept is squeaky brakes It squeaks as you drive - makes a high pitched noise I brought this car to the Audi service center to check the brakes over 5 times Each time, the garage tells me that they cannot locate the fault At the last visit, I insisted that they keep the car to monitor over a few days Outcome? I have squeakily brake pads Audi purposefully chose brake pads with higher metal content thus it will lead to noise. Doesn't matter if it's an A3 or A4 or A5… the service advisor says this will always happen Replacing the pads will only temporarily stop the noise until the new brake pads wear down and start to make those noises too Terrible that I need to live with this noise and Audi has no better solution



FEATURED RESOURCES


---

---

COE Results
Latest COE bidding results and historical price trends
---

---

---

---

COE RESULTS

Round 2
June 2022
Brought to you by:

CAT A
$74,989

CAT B
$106,001

CAT C
$53,011

CAT E
$104,400
POPULAR CARS BY VEHICLE TYPE