Past Car
Models no longer being sold by local distributors.
Model unavailable since Jan 2015
Built in

Germany

(launched 2006, facelifted Sep-2012)

Successor
Audi TT Coupe (2015)
| | | |
| --- | --- | --- |
| $274,549 (Feb 2013) | | |

9.3km/L
200 bhp
6-speed (A)

| | | |
| --- | --- | --- |
| $212,100 (Jan 2015) | | |

15.6km/L
158 bhp
6-speed (A) S-tronic

| | | |
| --- | --- | --- |
| $219,000 (Jun 2009) | | |

10.6km/L
250 bhp
6-speed (A)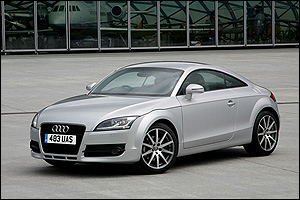 Audi TT Coupe
4.5 stars - based on 3 reviews


This car is a very good drive, the acceleration of the TT is very good. We own this car for 6 years now and the drive is still very good. It feels also very stable when we took it to malaysia.
Read More »
| | |
| --- | --- |
| | Good on street and on track |
First time owner of a conti car. Have been driving jap sports for the past 3 years plus. Didn't expect the engine performance and handling to be this good. Comparable to Jap sports makes or even better in overall balance of handling and comfort. (when compared stock to stock) Track ready even in stock trim and not much mods needed. very composed on the track with sufficient power to boot.
Read More »
| | |
| --- | --- |
| | Unmistakable design, exhibiting class and sophistication, with power on demand! |
The Audi TT Coupe delivers the X factor in droves! It has only a 2lt engine but delivers power on demand with its award-winning engine, generating 200BHP on a 1280kg car with aluminium/steel combi body. Absolutely fantastic feeling behind the wheel. I have driven a Nissan 350Z, and the TT's power is only slightly lower considering the 350Z has a 3.5lt engine. The built quality of the TT however is far more superior to the 350Z and even the Merz SLK. The leather, metal and plastic interior trimmings are very well done and certainly give you a sense of a solidly built car... impressive to anyone that sits in it. The TT is also very practical for a true coupe with 2+2 seats and a decent boot space. Although with small rear seats (better than nothing), it can fit 4 adults for short journey, no problems. Unlike Audi's sedan range of A4, A5, A6 and A8... the TT is unmistakable. You can recognise one from a distance away, and will not be mistaken for any other car/model. Handling is good... but admittedly, not as good as the RWD 350Z with brembo stock brakes, but on normal Singapore roads, this is no issue at all. The TT's S Tronic dual-clutch gearbox with flappy paddles, is just fantastic with smooth gear changes, better than any auto transmissions that I have driven before. The TT has a hidden retractable spoiler that auto deploys at 120km/h and retracts back at speeds below 80km/h. Fantastically cool feature! No car at remotely close to the TT's price range has such a feature. As far as I am concern, The Audi TT Coupe is the most affordable true sports car in the market... exhibiting class and sophistication, with power on demand. Sure... there are cheaper options like Golf GTI or the Scirocco, but none will carry the quality and presence of a Made-In-Germany Audi. Most certainly capable of putting a smile in your face everytime you get in the car! Good job, Audi!
Read More »


Topic Title
Replies
Last Action