This is an old car model that is no longer for sale by the local distributor since Jun 2013.
Built in
Successor
Land Rover Range Rover Sport (2013-2019)
User Ratings
| | | |
| --- | --- | --- |
| $309,888 (Jan 2010) | | |

6.7km/L
299 bhp
6-speed (A)

| | | |
| --- | --- | --- |
| $380,888 (Jan 2010) | | |

6.3km/L
390 bhp
6-speed (A)

| | | |
| --- | --- | --- |
| $475,000 (Jun 2013) | | |

6.7km/L
510 bhp
6-speed (A)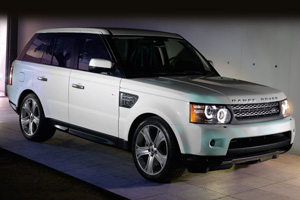 Land Rover Range Rover Sport
4 stars - based on 1 reviews
Car Review - Range Rover Sport TDV6 Diesel (A)
Known to be the most luxurious four-wheeler on the roads produced by British carmaker Land Rover, can the Range Rover Sport reaffirm its status as the most exciting and dynamic member in its stable?


---
| | |
| --- | --- |
| | The Range Rover Sport isn't just a model designation, but a different car. ` |
Sharper than a Discovery by some margin, but not quite as composed as the Range Rover, it doesn't quite know what it wants to be. It might ultimately be faster than its big brother, but better? That's up for debate. We'd take a base-spec Rangie proper every time. Some people think that the Range Rover Sport is the coolest thing on the planet. We aren't those people. Initially the Range Rover Sport feels pretty high class - until you have a go in a Range Rover, then it feels like a smaller, cheaper copy. It shouldn't vex too many people though - and the usual LR niggles have been worked through on other cars, so the RRS should be reliable after all that. Surprisingly not quite as good as the Range Rover proper - maybe because it's based on the Discovery chassis. It can still be made to surprise a few hot hatches, but it's not the most responsive of set-ups. The steering is nothing special, but the body control is good, with the usual excellent beyond-the-beaten-track ability and Land Rover's 'Terrain Response' system making off-roading with style a mere twist of a knob away. The RRS is lower and shorter than the RR, but head, leg and elbow space is still pretty good as long as we're talking for four rather than five. The usual RR split tailgate is very handy, and there's a decent boot.
Read More »


| | | |
| --- | --- | --- |
| Topic Title | Replies | Last Action |