This is an old car model that is no longer for sale by the local distributor since Oct 2015.
Built in
Successor
Mazda MX-5 (2015-2017)
Predecessor
Mazda MX-5 (2007-2010)
User Ratings
| | | |
| --- | --- | --- |
| $173,800 (Jan 2015) | | |

12.3km/L
158 bhp
6-speed (A)

| | | |
| --- | --- | --- |
| $107,488 (Aug 2008) | | |

13.5km/L
163 bhp
5-speed (M)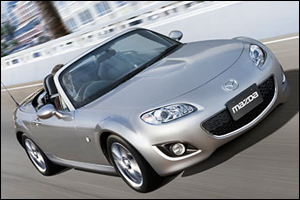 Mazda MX-5
4 stars - based on 1 reviews
Car Review - Mazda MX-5 2.0 (A)
The Mazda MX-5 holds a Guinness World Record for being the world's best-selling two-seater convertible to date. But can it sell here in Singapore? We take out the car for a good vibration.


---
| | |
| --- | --- |
| | Original roadster premised on the old MGB adage of high-fun at relatively low sp... ` |
Even though it's not the last word in razored dynamics, the Mazda MX-5 remains one of the best ways to learn about rear-wheel drive without getting expensive and dangerous and latterly, a large medical bill. Very comfortable all things considered, mainly because the MX-5 is supposed to be a car that you can use everyday rather than something more focused, like an Elise or Exige. Choose the smaller tyres for comfort and the RC for convenience (though the canvas top is fine). Plenty of room for two, plus bags. Trip for the weekend? No worries, just pack light and direct into the boot. Is it cool? What are you insinuating, hmm? They've kept the price reasonable, and there are pointers toward the cost-cutting dotted around the MX-5's cabin. Nothing too embarrassing - just a few bits of ropey hard plastics, but it grates when the rest of the car feels so solid. Otherwise this thing is proving to be bombproof. Sure-footed and predictable, the MX-5 is a joy to buzz around in. It might not be a track day uberlord, but there's fine fun to be had from RWD, a convertible roof and nice steering. Very sensitive to wheel and tyre choice; it handles best on the smaller diameter wheels, but looks better on the big 'uns. If it's two-seat practicality you want, it's two-seat practicality you'll get; the MX-5 has plenty of room for two adults and the cubbyholes have bred to produce a profusion of places to lose your keys. There's even decent boot space, hood up or down, RC metal roof or not. No surprise really, this latest generation MX-5 is actually quite a big car.
Read More »


| | | |
| --- | --- | --- |
| Topic Title | Replies | Last Action |