This is an old car model that is no longer for sale by the local distributor since Aug 2011.
Built in
Successor
Mercedes-Benz SLK-Class (2011-2016)
User Ratings
| | | |
| --- | --- | --- |
| $217,888 (Nov 2009) | | |

10.7km/L
231 bhp
7G-Tronic (A)

| | | |
| --- | --- | --- |
| $252,888 (Jul 2011) | | |

10.5km/L
231 bhp
7G-Tronic (A)

| | | |
| --- | --- | --- |
| $253,888 (Jul 2011) | | |

12.1km/L
184 bhp
5-speed (A)

| | | |
| --- | --- | --- |
| $303,888 (Jul 2011) | | |

10.9km/L
305 bhp
7G-Tronic (A)

| | | |
| --- | --- | --- |
| $346,888 (Jul 2006) | | |

8.3km/L
360 bhp
7G-Tronic (A) AMG Speedshift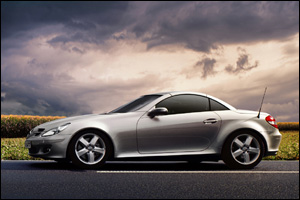 Mercedes-Benz SLK-Class
4 stars - based on 3 reviews


---
I owned 280 and 350 . Huge difference between them. Performance in all levels and also quality of materials even if the same model. Bullet proof engine. Can go to 1m km doing the right maintenance. Elegant horse power delivery. But if you step deeper on the pedal … well you will see the torque there …
Read More »
| | |
| --- | --- |
| | A unique and refreshing driving experience ` |
A totally unexpected chance to drive this lovely car (the SLK200 Kompressor model) for a whole day was, all in all, a unique and refreshing experience. All in all, this is a really enjoyable car to drive, although it is not necessarily practical for everyone. I would certainly recommend it to anyone who can afford it as a second car, or who is single or attached/married but without kids and does not need to fetch anyone else regularly. The car looks sleek and is a real attention grabber, whether with the roof down or not. The current version (R171) has a much more aggressive frontal profile and does not come across as too "cute" or "girly" for a man to drive as compared to the previous version. The interior is elegant in a very understated way. The displays are plain and simple to read but do not come across as cheap - rather, they exude class. The build quality is expected of a continental and especially of a Merc. The doors feel heavy and solid and close with a nice thump, not the hollow sound you hear from so many other cars. The roof is brought down by pushing and holding down a button till the process is fully completed, and put back up by pushing this same button in the opposite direction. I didn't time how long it took, but it wasn't very long - perhaps around twenty seconds. The accelerator pedal is responsive, but not as sensitive as I had expected, which is in fact a good thing. A light, gentle pressure from a standstill gets the car moving off unhurriedly but yet not sluggishly, just enough to keep up with traffic on urban roads with low speed limits. A slight increase in throttle brings about spirited acceleration that will bring you from 0 to 50 or 60km/h in the blink of an eye, well ahead of most other vehicles; this same slight increase also allows the car to filter into expressways and reach 100km/h quickly. Increasing throttle input sharply brings about a quick downshift and a rush of acceleration which is exhilarating, but yet not overly scary. The speed can be felt clearly by the driver and I didn't have to look much at the speedometer to know what kind of speed I was doing at any one time. Thus the car, though capable of great performance, is easy enough to keep within legal speeds if you value your licence - it is not the kind in which one might be speeding unknowingly without feeling it.
Read More »
| | |
| --- | --- |
| | Most fun car i've owned ` |
The SLK200k 2008/9 model appears a little more aggressive. The ride is very compliant and very sure footed especially shooting into bends. Engine feels unburstable but the 5 speed rear box is a little bit of a let down. The 7-gear matic is smoother and more responsive i've been told. However if you play with the paddle shifts (in the high options model) you can get it moving quite well. But be careful on down shifting when you are slowing down - it slips into first and gives you a jerk. The instruction manual recommends that we do not downshift to slow the car down. Otherwise it is a fun car. Thought seriously of a MX-5 but for safety the MB was a better bet (but about 2 X the price!) The new Z4 looks interesting but the previous model was too hard a ride.
Read More »