This is an old car model that is no longer for sale by the local distributor since Dec 2005.
Click here for the new model
Suzuki Jimny
that is currently for sale.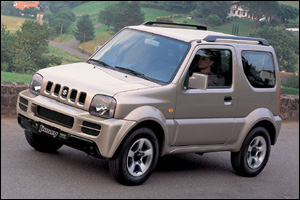 Built in
Successor
Suzuki Jimny (2019)
User Ratings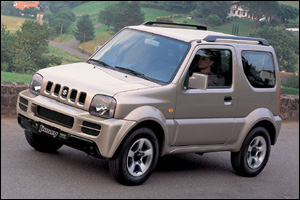 Suzuki Jimny
3 stars - based on 3 reviews

---
| | |
| --- | --- |
| | Next best thing to the Land Rover (Landy) ` |
Small and compact. Jimny performs well in many situations such as tight corners, easy parking and off roading. If you are looking for a decent compact SUV that don't go off roading, then don't look for this. If you are looking for a car that can give you the joy of challanging nature, then you got the right one here. Of course, there's certain restrictions unless you modified it to become off road worthy. Sitting space is abit thight for tall people like me. Ride comfort wise isn't fantastic, I would say. Well, it's just what you would expect it to be if you want something that's not ordinary. It's been 5 years since I bought the 1.3M Jimny. I still like it very much as it serves me well.
Read More »
| | |
| --- | --- |
| | Entry-level 4x4 - a real rough rider ` |
This is basically a truck with a somewhat more comfortable interior. Understand that and the vehicle makes a little more sense. I had a Jimny for a year - 1.3 manual - and it was a fun ride. I liked the visibility from the ride height and it was really easy to park. Driving it was easy, running mostly on 2WD except in bad weather when 4WD mode could be engaged with a push of a lever. But because it was narrow and tall with a short wheelbase, I had to be much more careful with it around corners. It is not for driving fast - whether on road or on dirt. Of course, it can be tricked out to do more on dirt, but I like to run my vehicles stock so I did not take that route. So long as you don't try to go faster than expressway speed, the Jimny is an easy vehicle to drive. Above 80km/h, it can start to feel a little twitchy. The ride was harsh - the thing was built to last, not to be comfortable, I guess. Friends actually got carsick in it and going over humps meant a lot of swaying. It was a versatile vehicle, with seats that could fold down for reasonable amounts of luggage - I once took two friends to the airport with full luggage. My triathlon bicycle could go in too, but stripped of both wheels and at an angle. The thing about the Jimny is how it is marketed - it is targeted at a youngish, hip crowd who want an SUV-like vehicle. But SUVs today are rather luxurious and have much more pliant rides. The Jimny, however, is really a utilitarian vehicle at heart. It has just been prettified for a more upscale market. But I think the Jimny is quite capable of going places people with pretty SUVs would not take theirs. So who is the Jimny really for? It is for people who need a really basic ride, fully covered, with some space for occasional passengers or a load. It is for people who may actually need to go off the road sometimes and cannot afford to have it break down, but can afford minor dings and scratches to its body. And it is, of course, no WRC race car. But right now, all it is is a dressed up truck with a higher price tag. If it returned to its utilitarian roots as a commercial vehicle, priced accordingly, the Jimny would make fantastic sense because that is where its market really is.
Read More »
| | |
| --- | --- |
| | They should upgrade this model ` |
Slower than a Pajero Mini and not so pretty. Sad.
Read More »


| | | |
| --- | --- | --- |
| Topic Title | Replies | Last Action |