Past Car
Models no longer being sold by local distributors.
Model unavailable since May 2016
-
8.8km/L
163bhp
-
8.8km/L
163bhp
-
8.8km/L
163bhp
-
8.8km/L
163bhp
-
8.8km/L
163bhp
-
8.8km/L
163bhp
-
8.8km/L
163bhp
-
n/a
272bhp
-
n/a
272bhp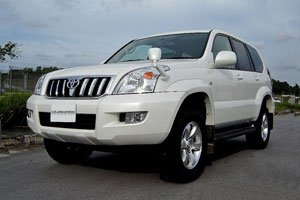 Toyota Prado
4 stars - based on 3 reviews

It was in 2004 when I had a closest encounter with this giant when it stopped beside me before a traffic lights. I felt in love thereafter for its gigantic size, it is so huge that many cars may suddenly look smaller beside it. Many of my friend had given me negative feedback about SUVs are very bumpy on road and it is not comfortable when travelling for long distance. When I confirmed that non of them is refering to Prado, I decided to test drive one from the re-sale market. I started my search last December to this year March. There were only about 6-7 waiting in the dealer's garage, I tested almost all except one with funny noise from the engine(those who was looking around at the same time may know which one and was just sold recently). My first test drive on this monster proved me wrong, the one that I chosed, a TX2 model, was very quiet in the cabin(stationary) and quite refine when negotiating a turn. It is a 1.9m tall and it gives me advance alert from the car or cars in front making a brake. The second row seats can even fit in two couples but the 3rd row are very pitiful with only a foot length of legroom. My thirteen years old small built son complains about he hardly can move his legs when seated. The 3rd row is only suitable for my two daughters of ten years below. Best record of passengers capacity was 2+4+4(kids). The brake lights design is a very outstanding one(my scores: 9/10) compared to other SUVs. The FC is about 7 to 7.3 km/l if pump with 98 above. The handling is good. The vehicle is extremly stable and the view is fantastic. The power steering is just right when compared to my 2006 Altis. Altis steering is under power. Last but not least, watch out for carpark heights warning before going in. Those height indicating 1.95m, can try. But those with exactly 1.9m, the concret beam might be not although the vehicle specs indicated 1.87m high. Never regret owning one although washing the car is a big headache.
Read More »
| | |
| --- | --- |
| | Most reliable car i've owned. |
It's look sporty yet grand. I feel superior when i sit on it as it's tower above most cars. Auto gear change very smoothly. The utilities box in between front seat can pull to front as hand rest for both front seater. It's very reliable.
Read More »
My prado is a TX2, the Active Model. Its a big and reliable vehicle that one can drive daily in the city. Although the vehicle i got doesn't have much enhance features like electric seats and cruise control, its a comfortable vehicle to drive. At a height of nearly 1.9m, it towers above most vehicles on the road. The negative part about the height being there are some car parks in town that have clearance height lower than 1.9m.
Read More »


Topic Title
Replies
Last Action