Past Car
Models no longer being sold by local distributors.
Model unavailable since Sep 2011
Built in

Germany

(launched 2008, facelifted Aug-2010)

Successor
Volkswagen Tiguan (2011-2017)
| | | |
| --- | --- | --- |
| $193,300 (Aug 2011) | | |

11.6km/L
200 bhp
7-speed (A) DSG

| | | |
| --- | --- | --- |
| $163,800 (Aug 2011) | | |

11.6km/L
170 bhp
7-speed (A) DSG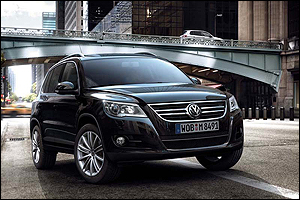 Volkswagen Tiguan
4 stars - based on 2 reviews


| | |
| --- | --- |
| | The SUV for your daily usage (minus the hefty cost). |
Tried the Tiguan some weeks back and forgotten to submit review... The exterior looks fierce but inside is cosy..engine start off is via key which hope to see keyless entry soon. Inside is a simple design with all the necessities, unlike its cousin Audi Q5 which has too many gadgets to play with (of course there is a high price diff for these)...overall the interior is simple and good for those who just wants a SUV for day to day use. Went for a drive on a curvy roads directed by the sales person and there is minimum bodyroll. On a straight road for cruising is quiet and normal. Tried to rev up the engine to overtake and surprisingly I could barely hear the engine roar in order to do so. Only drawback is the additional price to top up for the sport version is not worth due to the difference in a little accessories only which I feel the standard is sufficient enough. Overall I find the Tiguan is a SUV to get if you are looking for similicity and just daily use without the need to pay much higher price for gadgets and accessories that you do not need.
Read More »
Just ordered the car today, and when we test drove it was really good! think super smooth acceleration as well as pretty good handling.
Read More »


Topic Title
Replies
Last Action