Past Car
Models no longer being sold by local distributors.
Model unavailable since Jan 2010
Built in
Successor
Audi RS 6 Avant (2013-2015)
| | | |
| --- | --- | --- |
| $509,300 (Aug 2010) | | |

7.1km/L
572 bhp
6-speed (A)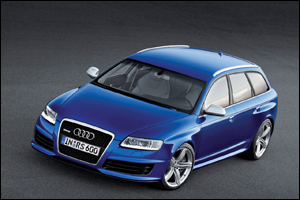 Audi RS 6 Avant
4 stars - based on 2 reviews
Track Test - Audi RS6 Avant
Say hello to the world's most powerful wagon. It's faster in a straight line than the R8. But will it hold its own on Malaysia's Sepang circuit? We headed north to find out.


| | |
| --- | --- |
| | The Audi RS6 Avant is the UberWagen. Supercar-destroyer with a boot. But not a s... |
Adjustable suspension works well – turning the RS6 from mile-muncher to hair-raiser in the flick of a switch. It's also got some of the best seats in the business. You really could have everything from this car, including a fuel bill larger than the GDP of Nigeria. hattering. OK, so it's limited to the usual 155mph top end, but when was the last time you saw an estate this big do 0-62mph in 4.4 seconds? And you can do it, all day, every day. That's a five-litre V10 under the bonnet with twin turbos kicking out 571bhp and 479lb ft of torque IN AN ESTATE CAR. Bow down RS4 and kiss my Pirellis. Not quite as cool as the old one, but still pretty chilly. 571bhp is always quite cool. Built from granite made to look like plastic. This is an interior other manufacturers should worship. The RS6 can do simply ludicrous things with the laws of physics; bend them, twist them, ignore them. Quattro makes it all happen, but you'll still be stunned when you turn into a corner too fast and the car tidies up your excesses with ease. No body roll, slightly dull steering and a bit numb from the seat of your pants - the usual Audi gripes. Massively practical because it is just so massive. Use this car everyday and love it. Kill the Labrador accidentally with strenuous acceleration, make the kids go blue with fright; it's all good.
Read More »
| | |
| --- | --- |
| | Meet the New kid on the block! |
There is something in the motoring world, consisting of three otherwise sane executive cars that have been infused with the ability to do dreadful things to your driving licence. Because there is a new kid on the block The BMW M5 and Mercedes-Benz E 63 AMG are original members, but their rank has finally been completed by the appearance of the Audi RS 6. If you're new to all this 'RS' stuff, it's the label that Audi attaches to its fastest very fastest, most special cars. The last of these was the brilliant RS 4, but it's taken until that car's demise for the RS 6 to appear because Audi only ever concentrates on producing one RS model at a time. And there's obviously an advantage to being last to the gunfight, because it means you can show up with the biggest weapon. Where the BMW M5 has 507bhp and the Mercedes has 525bhp, the RS 6 outguns them both with a thundering 580bhp. That makes it the most powerful Audi ever made, and to put that figure into perspective, you'd have to buy a Lambo or Ferrari to get something with more drive. Getting 580bhp together isn't the work of a moment, and the Audi has a 5.0-litre engine with a turbocharger for each of its two five-cylinder banks. There's an enormous cooling system to cope, and Audi's quattro all wheel-drive system to spread the power around, with 60 percent nominally directed at the rear wheels. Those are potent ingredients, but the Audi hardly shouts about them. There are flared fenders and subtle 'RS' badges, but it has the optional 20-inch alloys (to accommodate enormous carbon ceramic brakes), lowered suspension and blacked-out chrome, our test car gave precious little hint about the devastating power lurking under its bonnet. The more straight-laced buyers can wait till early next year when the saloon version makes its debut here.
Read More »


Topic Title
Replies
Last Action