Past Car
Models no longer being sold by local distributors.
Model unavailable since Apr 2015
Distributor
Hotline
Built in

Czech Rep

(launched 2009)

Pricelist
06-May Pricelist
| | | |
| --- | --- | --- |
| $134,900 (Feb 2013) | | |

15.9km/L
120bhp
7-speed (A) DSG

| | | |
| --- | --- | --- |
| $198,888 (Nov 2012) | | |

13km/L
197bhp
6-speed (A) DSG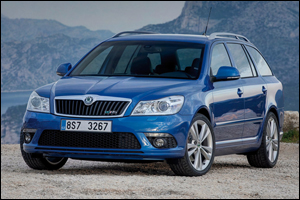 SKODA Octavia Combi
4 stars - based on 2 reviews


| | |
| --- | --- |
| | A refreshing left field choice |
I have always wanted a Volkswagen. Specifically the GTi. It was the ultimate sleeper car that was designed to smoke clueless drivers. And then, the GTi grew up, became famous and now everybody knows about it. Then came along SKODA. Specifically the Octavia vRS. It was the GTi Mark I all over again. I had to get myself one and when the opportunity came knocking or rather I went to knock on the opportunity, I got myself a Combi vRS. Finally. 10,000 miles later, I am enjoying my daily 70km commute. The amount of kit SKODA threw into the car was tremendous. I am only missing the kitchen sink but that will fit easily into the boot. 12 Speakers built-in Columbus system with auxiliary input and SD card reader. GPS, active headlights, driver's multi-display, rain sensors, auto headlights comes as standard. Heck, it even closes the windows by itself when it rains. Now, if it would only bring me the slippers, I will scrap my dog. The built is solid and functional, like a piece of industrial equipment. So much so that the engine note sounds abit agricultural at times but maybe it is just me and my imagination. 197 horsies pull away from most mortal traffic at will. Consumption is pretty decent at 11km per litre, then again this could be due to the fact that I hardly have the chance to push the car hard in Singapore. Genting was conquered in the first week of ownership. I planted a flag at the carpark and was about to declare our nation's sovereignty over the hill but the attendent chased me away. Maybe I shoud try Cameron next. Maybe they'll be nicer about it. Nonetheless, the valet was mightily impressed with the vRS despite not having a clue about what it was. "Skoda?" he pondered, wounded by the fact that he knows nothing about this one car and his reputation as a veteran parker just got pwned. "Very nice, like BMW," he finally concluded, to save himself from further humiliation I guess. Damm, I should have bought a BMW, then it will just be like the SKODA. After collecting my car, I received a letter from Harvest Motor. They actually increased my warranty to 5years/ 150,000km. First servicing was a breeze. No 1 month wait for booking. The car was in and out in 6 hours. They even washed and vacuumed the car. For those who would not like to own a boring car, this is the one to get.
Read More »
Apart from initial car stalls while slowing down @junction (resolved by re-download of car software), I am now very HAPPY with the SKODA COMBI engine performance of 1.4 TSI engine 7speed DSG transmission. It performs much much much better than my previous continental 1.6L station wagon.
Read More »


Topic Title
Replies
Last Action