This is an old car model that is no longer for sale by the local distributor since Jul 2012.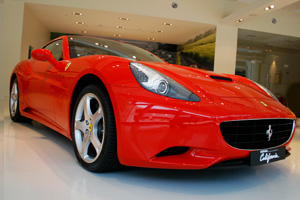 Built in
Successor
Ferrari California H30 (2012-2014)
User Ratings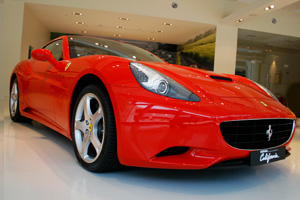 Ferrari California
4 stars - based on 1 reviews

---
| | |
| --- | --- |
| | Ferrari has succeeded in making a slightly gentler car, a more usable car, ` |
Ferrari goes for the 'useable' throat. It's not especially pretty, but it gets the job done – and the noise is A Very Good Thing. Ferrari reckons that this is probably its most useable model to date, and it rings true when you drive it. The new seven-speed double-clutch gearbox is much, much better than the F1 'box's auto mode - and it still provides the thrill when you want it. The top is well-insulated and looks great up, and the seats are lovely for touring. There's even decent luggage space. You could do serious miles and get away with it. Ferrari reckons that this is probably its most useable model to date, and it rings true when you drive it. Any worries that the California 'isn't a proper Ferrari' should be shelved now. It'll hit 100 in just under four seconds (3.9) and run on to speeds that you don't want to think about - suffice to say they're near enough to about 300 kph to really annoy low-flying jets. The steering's good, the brakes are good, the noise makes it sound like you're doing about 9 billion mph if you've got the roof off… Polarising to say the least. OK, so some people actually think the California was designed for Paris Hilton and therefore is the least desirable of all the current Ferraris. The truth is that it drives well enough to allay that kind of slightly suspicious assumption - and it looks great with the roof up. See one on the road before you make your decision. Very front-engined Ferrari. So nice and precise, but with a long bonnet and slightly bulky feel at first. Once you get used to it there's plenty of joy to be had - mainly because the 'Mannetino' traction control unit (mounted on the steering wheel and with less options than the F430) is such a simple joy to use. The various hero settings actually allow you to slide around a little bit and save face if you get it wrong. This kind of safety net is good for the fatty-bum-bums with lots of cash that will inevitably buy them. A decent boot compared to the mid-engined cars means that the Cali is pretty reasonable in terms of practicality. There's more space than you think if you pack properly, and the vision isn't that bad for a car that can go indecently quickly. It's also very easy to place on the road and feels small - it makes a difference if you drive the car a lot.
Read More »


| | | |
| --- | --- | --- |
| Topic Title | Replies | Last Action |