Past Car
Models no longer being sold by local distributors.
Model unavailable since Jan 2012
Built in
Successor
Mazda 2 Sedan (2016-2021)
| | | |
| --- | --- | --- |
| $96,988 (Jan 2012) | | |

14.7km/L
103 bhp
4-speed (A)

| | | |
| --- | --- | --- |
| $103,988 (Jan 2012) | | |

14.7km/L
103 bhp
5-speed (M)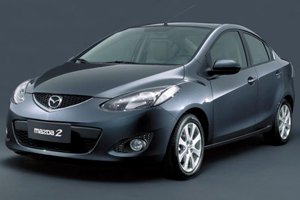 Mazda 2 Sedan
3.5 stars - based on 3 reviews


Mazda 2 has stepped out of its traditional Hatchback look to a modern city sedan car. Despite its 1.5l engine, it is amazing power as compared to other cars in the 1.5l category. On my first drive on mazda 2, i accidentally ignited the engine twice because when the vehicle is stationary, the car is quiet to the extent that i thought it was switched off. On the exterior, its design causes it to stand out among other cars (easily spotted in a big carpark). Also, the front design of the mazda 2 sedan is a cheerful smile which brightens up my morning. I named it the "bucked tooth" beauty (because of the positioning of the number plate). Compared to its brother, the hatchback 2, the sedan 2 provides a big boot for families who does groceries shopping on a weekly basis. Features wise, the car is lacking side indicators and modification opportunities. However, i am pleased with the original sound system installed in this car. No doubt that car watchers were skeptical on this launch, i am proud to be an owner of Madza 2 2010 sedan. I bought it without a test drive and i did not regret at all. My Unforgettable First Car: Mazda 2 Sedan 2010
Read More »
Just drove the Mazda 2 sedan for some time. Will definitely recommend it to those first timer thinking of buying a car.
Read More »
Test drove this sedan version from Mazda. From the exterior looks, its tall and wider than some out there. Along the drive, gear change is smooth and quiet when rev the engine... maybe is the VVTi... wonder how it drives with manual gearbox. Interior is basics only... nothing much to shout about... only that at the handbrake side, there is no arm rest or fully covered box like most sedans. Option of remote boot release, reverse camera is great to have. Only hope to see reverse camera is mounted somewhere that looks "factory fitted". Current mounting looks more like from outside fitted. With 16 inch wheels are good enough for stability drive. Overall, its ok to get it if you don't mind the interior simplicity looks.
Read More »


Topic Title
Replies
Last Action