› Go To Picture Gallery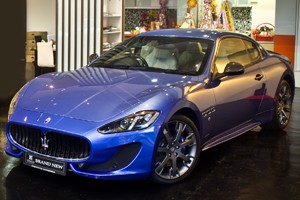 | | | |
| --- | --- | --- |
| | Sold by | |
| | Built in | Italy (launched 2010) |
| | Variants | |
| | User Ratings | |
Get the dealers selling the Maserati GranTurismo to contact me with their best deals.
7km/L
405bhp
Showing 1 dealers selling this Maserati GranTurismo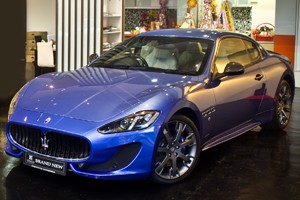 Maserati GranTurismo
4.5 stars - based on 2 reviews

---
| | |
| --- | --- |
| | The World's Most Charming Car ` |
The Maserati GranTurismo is a two-door, four-seat coupe produced by Maserati which was first unveiled in 2007. It is also available in a convertible version. It embodies all that is compelling and irresistible about Italian cars combining elegance and luxury with high performance. For the price tag, it delivers what it promises. It oozes style and sophistication. Well balanced weight and steering make it smooth to ride.
Read More »
| | |
| --- | --- |
| | Achingly pretty GT in the grand tradition (except it's not built of tin foil and... ` |
There was a time when driving a Maserati meant desperate posture at the wheel and a tendency to tramline that could happily fling you straight into a ditch. No more. Despite nearly 400bhp at a fairly high 7,100rpm, the GT manages to feel relaxed, composed and utterly comfy over distance. Good seats, relaxed but accurate steering, and ability to soak up bumps without sacrificing too much feel.Fast but not devastating, despite a good-looking set of on-paper figures. Just the one engine tune until the full specification of the GT-S is released, but it's a well-judged compromise. The GranTurismo is powered by a Ferrari-derived 4.2-litre V8 with just under 400bhp, the full whack arriving late-ish in the rev-range. The sprint to 62mph arrives in just 5.2 and the top speed is 177mph, even with the added handicap of the slow-ish paddle-override automatic gearbox.
Read More »


| | | |
| --- | --- | --- |
| Topic Title | Replies | Last Action |