Past Car
Models no longer being sold by local distributors.
Model unavailable since Dec 2014
Distributor
Hotline
Built in
Successor
Mercedes-Benz CLS-Class (2014-2017)
Predecessor
Mercedes-Benz CLS-Class (2004-2011)
Pricelist
14-Sep Pricelist
| | | |
| --- | --- | --- |
| $602,888 (May 2014) | | |

10.1km/L
518 bhp
7-speed (A) AMG Speedshift MCT

| | | |
| --- | --- | --- |
| $367,888 (Dec 2014) | | |

12.2km/L
302 bhp
7G-Tronic Plus (A)

| | | |
| --- | --- | --- |
| $436,888 (Jan 2013) | | |

11.1km/L
408 bhp
7G-Tronic

| | | |
| --- | --- | --- |
| $637,888 (Dec 2014) | | |

9.6km/L
585 bhp
7-speed (A) AMG Speedshift MCT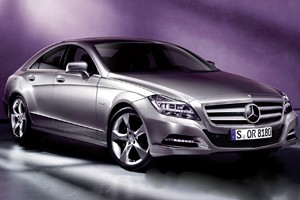 Mercedes-Benz CLS-Class
4.5 stars - based on 1 reviews


| | |
| --- | --- |
| | Mercedes creates a niche and it looks like turning into a bandwagon. |
The Mercedes CLS is a gussied-up E-class that manages to be much more than the sum of its parts. The CLS looks like a coupe, goes like a coupe, but retains four doors and nearly all of the practicality. Puts a little sex-appeal back into the Merc range without ending up at the door of the SLR. A touch firm if you're old, but for most rational humans the CLS feels pretty much spot-on. There's a decent chunk of cruising ability woven into the mix and apart from a bit of tyre roar if you have big wheels, little intrusion. Strangely the standard coil springs are more comfortable than the higher-spec and AMG models and their air-suspension. There are three petrol engines on offer for the CLS - a 3.5-litre with 292bhp, a five-litre with 388bhp and a 6.3-litre AMG with a heart-stopping 514bhp and a diesel. The V8s have enormous power and make the CLS into a pukka supercar, especially the 6.3-litre AMG. It's good for 514bhp, 464lb ft of torque and the sort of acceleration that instils in you an overwhelming paranoia. You drive the CLS 63 AMG like a caricature of criminality, shiftily searching this way and that for a safe moment to plant your right foot. The 100kph benchmark is dispatched in 4.5 seconds, the limiter set at 155mph. But it's what goes on in between that which really gets the guilt pulsing through your veins. There's so much seamless grunt through the seven-speed auto 'box that it's nigh on impossible to avoid some major law breaking in your own street. This car is very cool. Even when you know what it really is. Extremely well put together and containing some great materials and design. Proven and solid drivetrains and engines - this is a car that'll uphold Merc's reputation. The Mercedes CLS uses the same chassis as the E-Class, albeit a lowered and firmed-up version. So the car is sharper through the corners, is more competent with a flatter ride and has less body roll. The standard version's normal coil-springs have a much nicer ride than the AMG with its air suspension which feels more of the bumps. The coupe-like shape means that rear seat passengers inevitably have less space than in the equivalent E-class, but it's pretty big in there. Trouble is the doors are quite small and the sills high - so there are some access issues. The boot's big and useful at 505litres.
Read More »