Past Car
Models no longer being sold by local distributors.
Model unavailable since Jun 2015
Distributor
Hotline
Built in
Pricelist
15-Jun Pricelist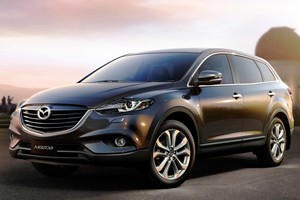 Mazda CX-9
4 stars - based on 1 reviews
Car Review - Mazda CX-9 3.7 (A)
Mazda's full-size crossover SUV undergoes a makeover. Will it remain a strong and competitive force in the seven-seater segment?


The Mazda CX-9 is a family-friendly crossover that has sportier driving dynamics and a more stylish design than many of its competitors. It's one of the few remaining crossovers that can deliver a sporty driving feel and a usable third row. With three rows of seating and a third row that folds flat easily for big boxes, the CX-9 has an especially handy layout for larger families, or for those who occasionally need some extra spots for the kids' team members
Read More »


Topic Title
Replies
Last Action