Past Car
Models no longer being sold by local distributors.
Model unavailable since Dec 2020
Built in

Germany

(launched 2013, facelifted Sep-2018)

Predecessor
Audi A3 Sportback (2004-2013)
| | | |
| --- | --- | --- |
| $134,250 (Nov 2020) | | |

20.8km/L
114 bhp
7-speed (A) S tronic

| | | |
| --- | --- | --- |
| $134,800 (Dec 2016) | | |

19.6km/L
123 bhp
7-speed (A) S-tronic

| | | |
| --- | --- | --- |
| $140,400 (Mar 2016) | | |

20km/L
123 bhp
7-speed (A) S-tronic

| | | |
| --- | --- | --- |
| $140,899 (Nov 2020) | | |

20km/L
148 bhp
7-speed (A) S tronic

| | | |
| --- | --- | --- |
| $157,700 (Jan 2016) | | |

20km/L
123 bhp
7-speed (A) S-tronic

| | | |
| --- | --- | --- |
| $185,550 (Jun 2013) | | |

17.8km/L
180 bhp
7-speed (A) S-tronic

| | | |
| --- | --- | --- |
| $191,950 (May 2014) | | |

17.8km/L
180 bhp
7-speed (A) S-tronic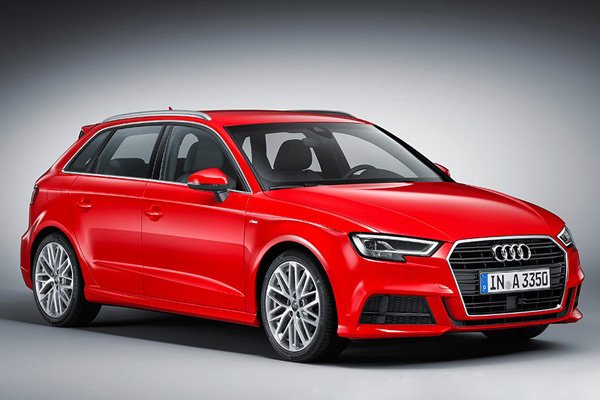 Audi A3 Sportback
4 stars - based on 3 reviews


Got my new car 26 December 2014 from Premium Auto. It's been three months, so far here are my findings; 1. Having driven VW/Skoda cars before, in comparison, the Audi feels much better put together, quality materials, insulation, road presence and confidence it gives. 2. Noise insulation is superb except for the tyre noise caused by the sports derivative tyres that came with the car. Perhaps it should be shod with Bridgestone Turanza series instead? 3. After doing 2500km, the 1.4 TFSI starts to feel more lively. When new from the showroom, it was a bit lazy from take off but when at speed, especially if the rpm is from 1500, the take off for overtaking is noticeable. 4. Noticed a lag below 1200 rpm or from stand still, there was a slight hesitation when you floor the pedal when you move off. In comparison to my previous Skoda Octavia 1.4 TFSI, the difference is stark (although I had a remap done which gave it 150 bhp and about 250nm of torque from 1750rpm). That skoda, you can feel the G-force pressing against you. In the A3, hardly noticeable. 5. Fuel consumption is somewhat better than the Octavia. 12.5km/l mixed. Up to 18/19km/l on the highway, quite close to the published 20km/l. 6. Features wise, it has all the bells and whistles that one can hope for, although a navigation system would have been welcomed, it's not very expansive nowadays. I'm not really into installing after market. 7. Advice for those who wants to do a remap, all the ports have been sealed and breaking those seals would void warranty. I'd wait for the car to pass the warranty period before considering it. 8. Space wise, it a lot more spacious now with the MQB platform and longer wheelbase compared to my MK 5 Octavia. All in all I'm happy with the purchase and would recommend anyone who is considering it.
Read More »
| | |
| --- | --- |
| | I am Surprised by the new A3 |
It wasn't on my mind to go for the A3 to start with, being budget conscious during the high COE prices, I was looking forward a nice entry level vehicle for the quality German engineering. Shopping around, there were quite a few new car launches, but once I had stepped into the new A3, I was very surprised by the quality of improvements that are considered in this new A3. Previous model of A3 didn't really catch my eye, but this new one blew my mind (as well as my budget) away. After one test drive, I was able to feel what this little monster is able to achieve and "trying" the Audi drive select model for the first time, my passengers and myself felt the difference.. The quality materials within gives it a "wow" factor, and although there are plastic materials used, none of the materials felt "cheap" With the current COE prices hovering at a high level, other makes or models will not feel as good as what I had felt seating in the A3, best of all, the price difference between them are not significantly higher... Driving the A3 for one month plus now, I can say that this is one of my favorite cars ever driven...
Read More »
Went to the A3 launch sometime back at F1 pit. First looks, a slightly wider A3 compared to its predecessor and with better looking daytime LED lights too. The interior is kinda similar to Mercedes A Class, the recent model but A3 is simpler looks. The MMI screen is kinda odd as it juts out from the top, should consider putting in as part of console than separate. Legroom is adequate as slightly spacious than the previous model only, nothing to shout about. Boot space too. The drive was at the F1 pit for balancing on mechanical plank, speed thru and hit a huge football to goal post and a twist turn short circuit. The responsiveness of the brakes are good as once SLAM, it BRAKES and doesn't throw you aback unlike the Japanese, Korean or even some Conti makes. The handling I must say have improved during the twist turn circuit and responsive too. Gadgets or features wise nothing to shout about as nothing to try as plain basic Audi. Overall, for sporty handling, this can be a consideration but I still prefer the normal VW Golf (not Sport or GTI), otherwise its the 4 rings that many sort after.
Read More »


Topic Title
Replies
Last Action