Past Car
Models no longer being sold by local distributors.
Model unavailable since Jan 2019
Distributor
Hotline
64793333
Built in

USA

(launched 2013, facelifted Sep-2015)

Pricelist
13-Jun Pricelist
| | | |
| --- | --- | --- |
| - | | |

5.1km/L
470bhp
8-speed (A)

| | | |
| --- | --- | --- |
| - | | |

n/a
461bhp
8-speed (A)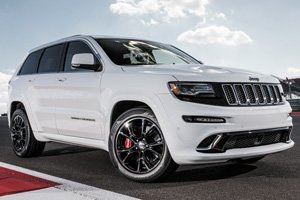 Jeep Grand Cherokee SRT8
4 stars - based on 1 reviews

The Jeep Grand Cherokee SRT8 was facelifted on Sep 2015. Read more


| | |
| --- | --- |
| American SUV on steroids. | |
What do you look to if you need a car large enough to lug your family around, yet have a thirst for good ol' American V8s? The answer is the Jeep Grand Cherokee SRT8, which is powered by a 6.4-litre Hemi V8 producing 470bhp. While some may find this sort of power unnecessary for Singapore roads, all that will be forgotten once you meddle with the paddle shifters in this car and bring to life the glorious V8 rumble. Point to note though, the V8 in this is slightly tamer as compared to other muscle cars as it is still a vehicle that is supposed to ferry children, pets and luggage around. The SRT8 might deceive with its size but it does not feel like a large car whether you gun it down a straight road or around a bend. It's even packed with features such as adaptive cruise control! There's very little not to like about this car except maybe when your petrol bills come.
Read More »

Receive 3 MCF points when you submit a review

Topic Title
Replies
Last Action